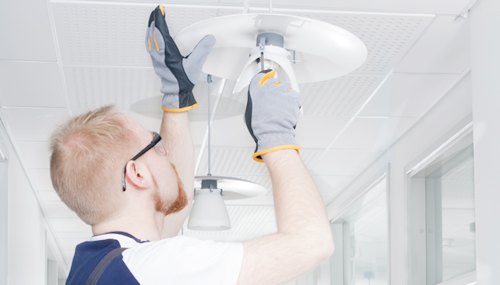 UL offers comprehensive testing, certification and professional training in engineering best practices and regulatory standards to manufacturers of retrofit kits for commercial, architectural, industrial, signage and residential applications. We certify retrofit kits for exit signs, refrigeration cases, fixed luminaires and electric signs.

We work closely with local authorities and industry associations to keep our services aligned with codes and local regulations. We provide broad scope coverage for retrofit kit components, with a strong focus on installation requirements.

Our service offerings are designed to reduce the costly delays associated with testing retrofit kits. We also offer "family coverage" for multiple models to reduce both cost and the need for redundant testing.

UL certified retrofit conversion kits help bring peace of mind to both manufacturers and end-users. Intended for field installation in certified products, retrofit kits have been investigated to determine that, when installed and used in accordance with the manufacturer's instructions, they will not adversely affect the operation of the complete unit. UL certified retrofits help eliminate the problems of:

Authority acceptance and code compliance
Piece-meal retrofits lacking sufficient installation instructions
Compatibility with the installed luminaire
Interoperability of dimmers and energy efficiency equipment
Questionable reuse of existing parts
For more information or to request a quote, please contact LightingInfo@ul.com.

Request More Information
Fill out the form below to request more information about Retrofit Kits.
---