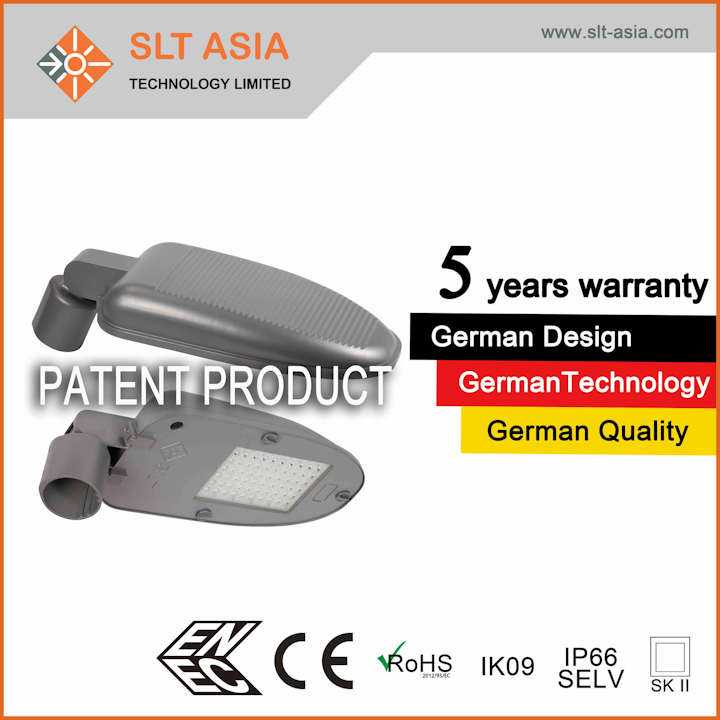 Why intelligent?
1. Time programmable dimming (by hour, day, week, season, brightness etc.).
2. Constant Luminous compensation.
3. Over-temperature protection system
4. Input and Output power monitoring (current, voltage, shot, overload etc.)
5. Dimming by 0-10V interface, DALI, Resistor, PWM, AC-Line, Triac.
This SPIT technology always get the precise data, all unstable factors are under controlled.

Why Green?
For every accessories, from screws to housing, are purchased by us from international supplier. We care about our environment, meet RoHS and WEEE regulation.

Why Good quality?
1. SLT-TECH Designed and developed by our Germany engineers, combine know-how of many electronic fields.
2. Fully test by our lab and authoritative 3rd party.
3. Use electronic in only 50% - 70%, never fully drive or overload it, make sure keeping allowance.
4. LED street light has min. 65,000 hours lifespan with 5 years warranty.

SLT-TECH start LED lighting business from Germany, now expand to worldwide. Experienced in government replacement project and industrial project.

Request More Information
Fill out the form below to request more information about Intelligent LED street light with min. 65,000 hours lifetime for smart city.
---