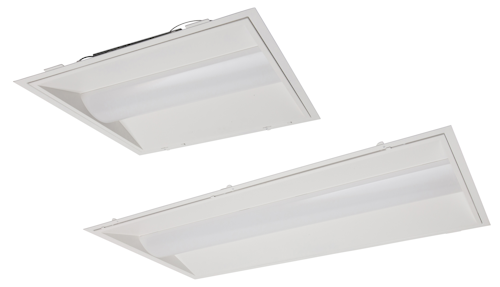 Litetronics' patented line of easy-to-install Volumetric RetroFit systems can upgrade almost any fluorescent fixture to LED technology in minutes. Offered for 2'x2' and 2'x4' troffers using only 29 and 39 watts respectively, Litetronics' DLC premium-listed LED Volumetric RetroFits deliver 125 lumens per watt(LPW) of evenly-distributed, low-glare illumination that's ideal for a range of professional lighting applications.

Designed with a tab/cam system that fits all standard T-bar grid ceilings, the fixture's thin 3.15" profile enables the two-piece system to fit neatly inside the troffer, avoiding the need to remove the troffer or otherwise expose the ceiling plenum.

During assembly, the lamp is hung in an open position from the one -piece metal frame that is secured in the T-grid. This frees the installer's hands to quickly complete the wiring and swing the lamp up into the final position.

Offering an attractive 100,000-hour life and 10-year warranty, Litetronics' LED Volumetric RetroFits feature 0-10V dimming and are available in 3500K, 4000K, and 5000K versions. Suitable for damp locations, they're also daylight and occupancy sensor-compatible to enable further energy savings. Together, their easy-install design combines with their premium performance and long life to deliver an excellent ROI.
Request More Information
Fill out the form below to request more information about Easy-Install LED Volumetric Retrofits Offer Excellent ROI.
---