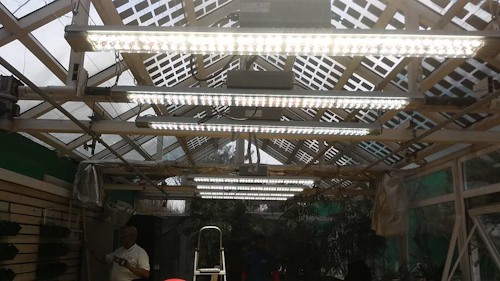 Cultivar Series Grow Lights

These high profession lights are designed to meet the demand of HIGH VALUE crops. These Flexible, Modular, Color Changing and high powered Cultivar lights will increase over 25% out-put and reduce 30% of your electricity consumption on every cycle. Cultivar lights can be configured from 100 watt to 2000 watt in a single circuit.

We understand there are no "one size fits all" in the Plant growing business. Everyone do it differently. So we made our lights modular. The building blocks will allow you to tackle any type of demand without too much trouble.

Cultivar Grow Lights were introduced in the late 2008 by U-Tron to help hydroponics enthusiasts to test the LED advantages. Now shipping our 4th generation products with dimming, color tuning and programing control box.

After few years of study its proves without any doubts LED technology is much superior artificial lights when its comes to tackle the various needs of Growing plants in-doors.
Request More Information
Fill out the form below to request more information about Cultivar IV Grow Lights.
---