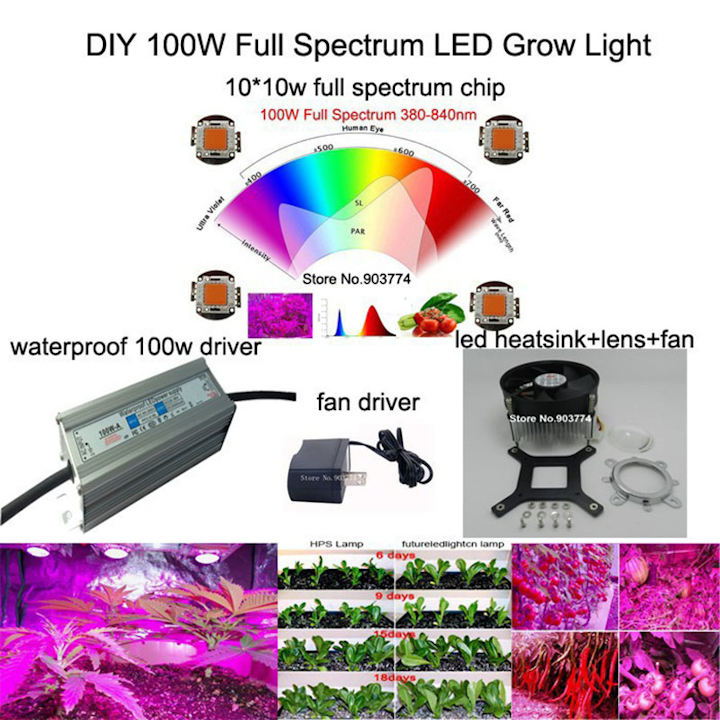 DIY led grow lights are a great way to save money when starting out in hydroponics. Instead of paying big bucks on a brand name, design one yourself and have precise control over the wattage and spectrum. This DIY grow light kit comes with everything you need to start producing the amount of spectrum required for any kind of plant or in a (3ft x 3ft) cover area.

Included:
- High powered cob full spectrum led chip
- Constant current led driver
- Alluminum heatsink
- High speed cooling fan
- Large glass lense

You can easily replace, upgrade and add to expand and/or alter your grow light in any way you wish. This includes but not limited to, adding more led chips and led drivers to increase watt output. Many use this kit as a starter kit to expand a grow light into segments while keeping them connected as one entity throughout the grow room.

As with all our diy grow light products, we only sell and use, the highest quality components. This product in particular uses Bridgelux led chips and 1.2mm gold wire to ensure you will not have to use the 2 year warranty we provide.

Request More Information
Fill out the form below to request more information about 100W DIY led grow light with large COB lense.
---