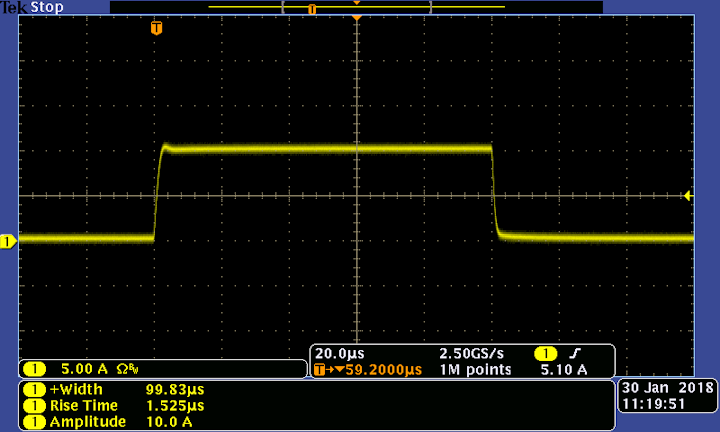 Vektrex SpikeSafe™ DC / Continuous Pulse (DCP) Current Sources provide reliable DC or pulsed drive for LED or laser diode reliability testing, IESNA LM-80 maintenance testing, and other test applications requiring DC or continuous pulse current. Models support currents from 339µA to 60A and max compliance voltages from 50V to 400V. All models feature individual channel control, accurate pulsing over long output cables, precise current, precision pulsing for improved measurement repeatability, and high power density — typically 6.4kW-8kW.

- 1-8 independent channels/model
- High current, up to 60A
- Compliance voltages to 400V
- Pulse width range: 10µs to 15000s
- Pulse synchronization across multiple channels
- 0-100% duty cycle
- Modulated current option supports arbitrary current waveforms
- Energy efficiency > 96%
- Form factors include rackmount, benchtop or integrated system
- MTBF > 175,000 hours

Adjustable load tuning allows the SpikeSafe to compensate for load conditions, cable impedance, and length. The resulting fast, clean pulses have little overshoot – even with output cables over 10 meters long. Using the SpikeSafe DCP makes it easy to duplicate real-world pulsed operation test conditions – for example 720 Hz PWM operation at 1% duty cycle.
Request More Information
Fill out the form below to request more information about SpikeSafe™ DC / Continuous Pulse Current Sources.
---