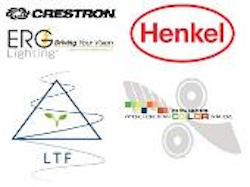 Crestron Electronics is a company that manufactures systems for home automation and audio/video control. The hardware developed by Crestron includes programmable controllers including touch panels, keypads, and lighting control systems.
ERG builds and ships more than one million transformer-based products annually. In 2008, ERG began leveraging its expertise in LED control to include areas of general lighting. Today, ERG Lighting offers LED drivers for solid state lighting that surpass clients' expectations for quality, function, and reliability.
Founded in 1876, Henkel holds globally leading market positions both in the consumer and industrial businesses with well-known brands such as Persil, Schwarzkopf and Loctite. Henkel, headquartered in Düsseldorf / Germany, has some 47,000 employees worldwide and counts among the most internationally aligned German-based companies in the global marketplace.
LTF innovative technology, excellent engineered designs, along with high quality manufacturing has allowed us to deliver outstanding results to our consumers. We have taken a new approach toward product design concepts. Through dedicated innovative engineering and manufacturing we significantly shortened our project lead time, which has translated into a competitive edge and savings for our consumers.
As one of the largest toll processing coil coating companies in the United States, Metal Coaters has been providing coil coating solutions to various industries for more than 25 years.
Request More Information
Fill out the form below to request more information about Crestron, ERG Lighting, Henkel, LFT, Metal Coaters.
---