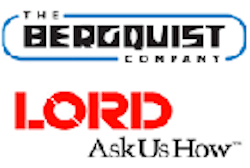 Innovation, performance and customer satisfaction are BERGQUIST'S guiding principles. Today, Bergquist supplies the world with some of the best-known brands in the business: Sil-Pad thermally conductive interface materials, Gap Pad electrically insulating and non-insulating gap fillers, Hi-Flow phase change grease replacement materials, Bond-Ply thermally conductive adhesive tapes, and Thermal Clad insulated metal substrates.
LORD Corporation specializes in developing thermal management materials including gels, greases and encapsulants for demanding LED applications. Our experience in electronic materials spans more than 40 years. We incorporate this vast experience in developing solutions for new applications to help ensure our customers' success.
Request More Information
Fill out the form below to request more information about The Bergquist Company and Lord Corporation.
---