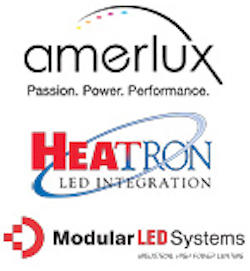 At Amerlux® we believe that the right LED light in the right environment changes everything. Independent, globally recognized pioneers in applied LED technology, we measure lighting value in terms of its impact on humans, rather than in terms of lumens alone. As the LED revolution continues to evolve, Amerlux remains at the forefront of lighting innovation. Our products influence consumer behavior, enhance office productivity, elevate safety, and create unprecedented beauty. Learn more at amerlux.com.
Heatron's LED integration expertise helps OEMs reduce costs, speed time to market, and ensure superior quality and performance by leveraging the engineering disciplines of optical, electrical, and mechanical design, with expertise in thermal management. Heatron offers various levels of integration ranging from design and manufacture of component-level LED light engines to turnkey lighting solutions designed for a range of uses, including indoor and outdoor, healthcare, transportation, entertainment, and industrial lighting applications. Learn more at www.heatron.com.
Modular LED Systems offers eco-energetic lighting solutions that can be adjusted for your specific needs. Our reliable products are built with powerful COB LED technology — high performance and low maintenance, especially for industrial and high-bay applications. Learn more at www.modularledsystems.com.
Request More Information
Fill out the form below to request more information about Amerlux, Heatron, Modular LED Systems.
---