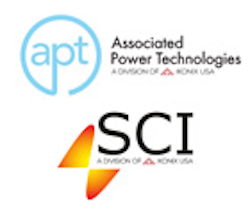 28105 North Keith Drive
Lake Forest, IL
Associated Power Technologies (APT) is a leading manufacturer of AC power sources and frequency converters. APT offers single phase and three phase solutions in power configurations from 500 VA to 18 kVA. APT's products are commonly used in such industries as aerospace, military, test & measurement, medical device, lighting, components, power supplies, consumer electronics, transportation, testing laboratories, consumer appliances, and utilities/power distribution. For more information visit www.aptsources.com.
At SCI we develop products that make safety testing simple. We've been keeping our customers happy for more than 60 years by focusing on the little things. During that time we've learned a lot about what it takes to stay current, relevant and ahead of the competition. Our products are packed with only the features you need, and none that you don't. Explore the most intuitive tests on the market. For more information visit www.hipot.com.
Request More Information
Fill out the form below to request more information about Associated Power Technologies (APT) and SCI, divisions of Ikonix USA.
---