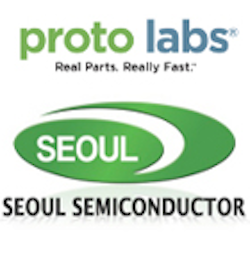 Proto Labs manufactures custom parts through its Firstcut CNC Machining and Protomold Injection Molding services for designers and engineers around the world. Its proprietary software and automated manufacturing processes allow for quick-turn prototyping and low- to mid-volume production of real plastic and metal parts in a matter of days.
Seoul Semiconductor manufactures and packages a wide selection of light-emitting diodes (LEDs) for the automotive, general illumination/lighting, appliance, signage, and backlighting markets. The company is the world's fifth largest LED supplier, holding more than 10,000 patents globally, while offering a wide range of LED technology and production capacity in areas such as "nPola," deep-UV LEDs, "Acrich," the world's first commercially produced AC LED, and "Acrich MJT - Multi-Junction Technology," a proprietary family of high-voltage LEDs.
Request More Information
Fill out the form below to request more information about Proto Labs Inc., Seoul Semiconductor Co. Ltd..
---