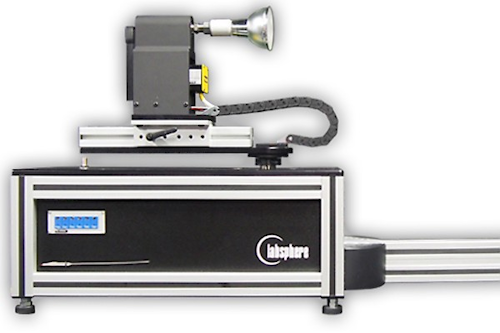 Labsphere, Inc. has released its newest light metrology solution, a full feature Goniospectrometer that fits securely on a lab bench. The Benchtop Goniospectrometer is the perfect option for customers requiring the performance of a Type C Goniospectrometer, but are limited by lab space and budget. The reduced footprint allows users to benefit from Labsphere's expertise in light measurement technology without the hassle and expense of building an additional room for a traditional full size Goniospectrometer.
Greg McKee, Chief Technologist at Labsphere stated: "As we worked with global customers requiring full function Goniospectrometers, we realized that the industry needed a robust system that could be used in existing lab spaces. The Benchtop Goniospectrometer meets that need and augments the full line of light measurement technology solutions Labsphere has developed over the past 35 years."
The Benchtop Goniospectrometer measures: Lumens, Peak Candela, CCT, CRI, Beam Angle, Power, Power Factor and Lumen/Watt. User-friendly software allows for customizable reporting with over 20 data points reported in IES format for compliance to global standards and specifications.