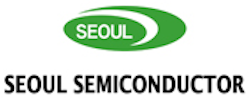 97-11, Sandan-Ro 163 Beon-Gil, Danwon-Gu - Ansan-si - 15429 - South Korea
Seoul Semiconductor develops and commercializes LEDs for automotive, general illumination, specialty lighting, and backlighting markets. As the second-largest LED manufacturer globally excluding the captive market, Seoul Semiconductor holds more than 14,000 patents, offers a wide range of technologies, and mass produces innovative LED products such as SunLike – delivering the world's best light quality in a next-generation LED enabling human-centric lighting optimized for circadian rhythms; WICOP – a simpler structured package-free LED which provides market leading color uniformity and cost savings at the fixture level, providing high lumen density and design flexibility; NanoDriver Series – the world's smallest 24W DC LED drivers; Acrich, the world's first high-voltage AC-driven LED technology developed in 2005, including all AC LED-related technologies from chip to module and circuit fabrication, and nPola, a new LED product based on GaN-substrate technology that achieves more than ten times the output of conventional LEDs. UCD constitutes a high color gamut display which delivers more than 90% NTSC.
For more information, please visit www.seoulsemicon.com/en.
Request More Information
Fill out the form below to request more information about Seoul Semiconductor.
---