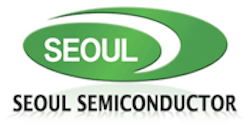 97-11, Sandan-Ro 163 Beon-Gil, Danwon-Gu - Ansan-si - 15429 - South Korea
Seoul Semiconductor manufacturers and packages a wide selection of light emitting diodes (LEDs) for the automotive, general illumination/lighting, appliance, signage and back lighting markets. The company is the world's fifth largest LED supplier, holding more than 10,000 patents globally, while offering a wide range of LED technology and production capacity in areas such as "nPola", deep UV LEDs, "Acrich", the world's first semiconductor light source that operates directly from both AC and DC power supplies, and "Acrich MJT - Multi-Junction Technology" a proprietary family of high-voltage LEDs. The company's broad product portfolio includes a wide array of package and device choices such as AC driven LEDs, high-brightness LEDs, mid-power LEDs, side-view LEDs, through-hole type LED lamps, custom displays, and sensors. The company is vertically integrated from epitaxial growth and chip manufacture in its fully owned subsidiary, Seoul Viosys, through packaged LEDs and LED modules in three Seoul Semiconductor manufacturing facilities. Seoul Viosys also manufactures a wide range of unique deep-UV wavelength devices.

The packaged LEDs and LED modules are available in North America through Digi-Key Corporation, Avnet Electronics and Mouser Electronics.
Request More Information
Fill out the form below to request more information about Seoul Semiconductor.
---