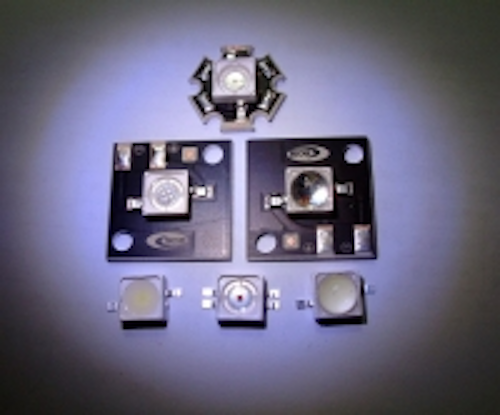 Date Announced: 07 Dec 2004
Seoul Semiconductor (SSC) has introduced a series of high-power packaged LEDs, including a Full Color device containing high-power RGB chips.
Seoul Semiconductor has commenced production of its Z-Power P1 series of high-power LED packages, which includes a package containing three high-power red, green and blue chips.
The white Z-Power LED has a luminous flux of 140 lm at 1.4 A (5 W), corresponding to 28 lm/W, while the luminous efficacy is 40 lm/W at 350 mA.
SSC plans to introduce even brighter power LEDs, with an efficacy of 50 lm/W, in the coming year.
The Z-Power LED is available in white, red, green, blue, amber, cyan, warm white and full color. The range of radiation patterns include 40°, 70° and 130°, as well as a side-emitter version.
The Z-Power LED is SMT solderable, and has a thermal resistance of 16 °C/W. Several versions operating at 1 W (350 mA), 2.5 W (700 mA) and 5 W (1.4 A) are available.
The correlated color temperature (CCT) for white is given as 3000-8000 K, while the reliability (time to reach 50% degradation of lumen output) is stated as 70,000 hours at 350 mA.
Visit http://www.ledsmagazine.com/articles/news/2/5/9/1 to download the datasheet for this product.
Applications
SSC's Z-Power LED is designed for high-current operation where high-flux output is required. SSC says that the product has a wide range of applications such as internal & external lighting, automotive lighting, and large-sized LCD backlighting.
Other applications include general iIllumination; outdoor & indoor architectural lighting; decorative lighting; torch lighting; portable lighting (flash and lamp) and reading lighting; traffic signs; and large LCD back lights.
Full Color Z-Power LED - a world first
SSC has succeeded in developing the Full Color Z-Power LED, which the company claims is the only multi-color packaged LED product containing three high-power (350 mA) RGB chips.
The product emits light of any required color or white light with a luminous flux of 60 lm. Further characteristics of the Full Color Z-Power LED are available in the Datasheet.
The Full Color Z-Power LED is highly suited for LCD backlighting application, since it does not require color filters unlike the existing CCFL technology. Also, by eliminating diffuser sheets and reflector sheets, SSC says that it can cut raw materials and assembly costs.
The Full Color Z-Power LED also dramatically reduces the amount of space required, compared with 3 separate red, green and blue LED packages, making it much more flexible and suitable for various applications such as architectural or decorative lighting.
Contact
Chang Joon Ko Marketing Analyst Seoul Semiconductor Co., Ltd Tel: 82-2-2106-7334 Cell: 82-2-10-9797-5615 Website: www.zled.com
E-mail:changko@seoul-semicon.co.kr