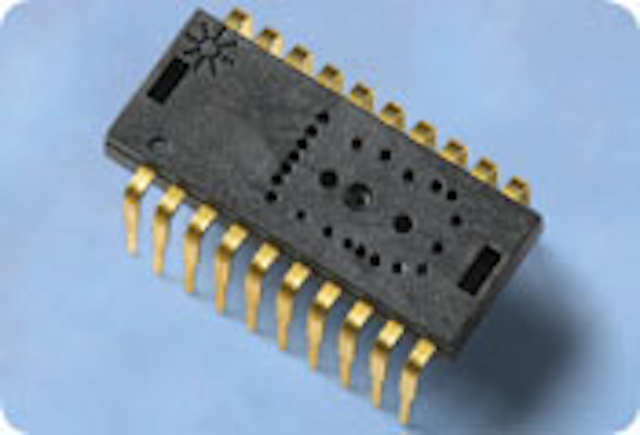 Date Announced: 01 Dec 2004
Agilent Technologies Inc. has introduced an LED-based optical mouse sensor that provides better tracking control than the company's previous-generation LED-based devices.
The new sensor outperforms other optical mouse sensors by working over a wider variety of surfaces, including wood desktops and halftone images. Only Agilent's revolutionary laser mouse technology introduced earlier this year works on more surfaces, due to its 20x improvement over LED-based devices in surface tracking accuracy.
The Agilent ADNS-3060 LED-based optical mouse sensor provides excellent tracking control for applications such as corded and cordless mice for desktop and game PCs, notebook PCs, trackballs and integrated input devices.
"Agilent's latest LED-based optical mouse sensor provides performance enhancements that enable OEMs to offer higher-performing corded or wireless mice at a moderate incremental cost," said Ed Keane, navigation sensors business manager for Agilent's Sensor Solutions Division.
"Consumers can expect increased precision, reliability and performance with optical mice powered by Agilent's new navigation sensor."
Compared with Agilent's widely used ADNS-2051 high-performance optical navigation sensor, the ADNS-3060 features 3.3-volt (vs. 5 V) operation, power-down current consumption of 30 uA (vs. 240 uA), maximum clock frequency of 24 MHz (vs. 18 MHz), and a maximum speed of 40 inches per second at 6,400 frames per second (vs. 14 ips at 1,500 fps).
Both sensors offer a resolution of up to 800 cpi (counts per inch). The ADNS-3060 is designed for use with the Agilent ADNS-2120/ADNS-2120-001 lens, the ADNS-2220/ADNS-2220-001 clip and the HLMP-ED80-XX000 LED (red AlGaInP-based devices). Together these parts form a complete, compact mouse sensor solution.
The ADNS-3060 sensor uses a self-adjusting frame rate, which automatically matches the frame rate to the surface characteristics for optimum performance. If the navigation surface reflects light efficiently, for example, the sensors will tune for a higher frame rate to improve the tracking performance; in previous optical sensors the frame rate was adjusted by external microcontroller firmware. The self-adjusting frame rate feature can be disabled if manual control is preferred.
The ADNS-3060 contains an image acquisition system (IAS), a digital signal processor (DSP) and a four-wire serial port. The IAS acquires microscopic surface images via the lens and illumination system. These images are processed by the DSP to determine the direction and distance of motion. The DSP generates the (delta) x and (delta) y relative displacement values, which are converted into SPI (system-packet interface) signals. An external microcontroller reads the x and y information, then translates the data into PS2 or USB signals before sending them to the host PC or game console.
The Agilent ADNS-3060 optical navigation sensor is priced at $5.00 each in high-volume quantities. It is available now through Agilent's direct sales channels and worldwide distribution partners. The ADNS-3060 is delivered in a 20-pin DIP (dual inline package). The combination of the ADNS-2120/ADNS-2120-001 lens, the ADNS-2220/ADNS-2220-001 clip and the HLMP-ED80-XX000 LED is priced at $0.56 in high-volume quantities.
Agilent pioneered position sensing for mouse technology and supplies these products to all major optical mouse manufacturers worldwide, having shipped more than 300 million sensors to date. Agilent provides a broad portfolio of mouse sensors, ranging from inexpensive, entry-level LED-based models to high-precision versions.
Contact
Agilent Semiconductor Products Group Tel. +1 800 235 0312
E-mail:semiconductorsupport@agilent.com