Warm white wedge-based LEDs offer direct interchangeability with incandescent lamps
Nov 12th, 2004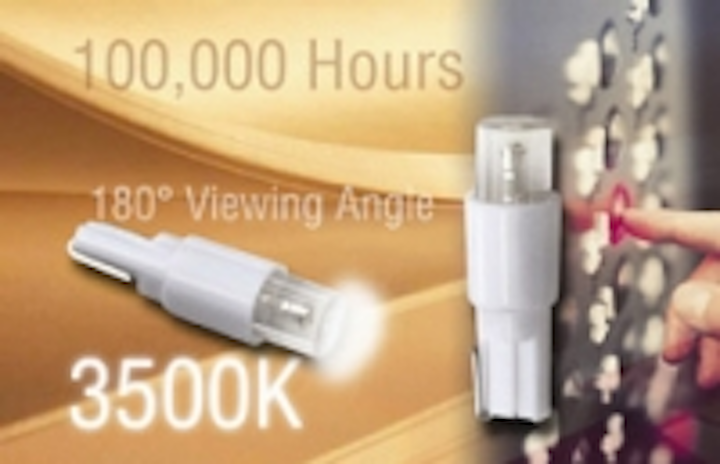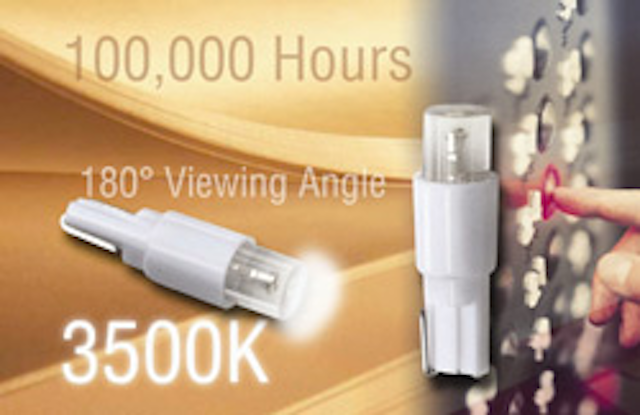 Date Announced: 12 Nov 2004
BivarOpto, the Optoelectronics division of Bivar, Inc., has introduced a new Wedge-based warm-white LED featuring accurate color output of industry standard T-1 ¾ (5mm) Wedge-based incandescent bulbs.
The ability to imitate the same output brightness and hue as the incandescent lamp opens many new doors to a host of applications where longer life LEDs can lower replacement and overall systems maintenance costs.
Ideal applications for this new LED device include telecommunications, switching systems, elevators, automotive instrument panels, annunciators, indicators and use in miniature lighted push-button switches.
Indoors, it can enhance warm earth tones and provide visual illumination that is not only comfortable to the eye but organic and transparent compared to the harsher tones of typical solid-state "white" LED lamps.
Featuring a warm-white color temperature of 3500K (Kelvin) to provide similar eye and atmosphere comforts to traditional incandescents, the new WB5 Series also features a flat faced lens design with an internal reflector for enhanced light intensity while also providing a 180° wide-viewing angle for optimal display efficiency.
Rated at 2.5-48 V DC, the subminiature unit measures only 0.80 inches (20.37 mm) in length and 0.230 inches (5.842 mm) in diameter. The WB5 Series offers a solid-state design vs. fragile filaments of incandescents, making it deal for applications where vibration, electrical and mechanical shock, and heat typically reduce service life.
The WB5 is rated for service life up to 100,000 hours, while requiring low operating current (10-30 mA typical), resulting in substantial power consumption savings of 80% or more vs. incandescent lamps. The new device offers an excellent solution where applications require a reliable unit impervious to environmental extremes.
Anthony Vilgiate, Vice President, Strategic Business Development stated, "We are excited with the development of this warm-white characteristic. There are hundreds of applications where incandescent lamps are being used. and Incandescent lamps are capable of relatively short service lives and are vulnerable to vibration, shock and heat. We expect this new model to become popular quickly, offering long life and lower total cost of ownership."
The WB5 Series is priced from $0.64 each in 10,000 piece quantities and is immediately available from stock through Bivar?s global network of distributors. Custom colors and electrical characteristics are available .
Contact
Bivar, Inc. Anthony W Vilgiate Phone: +1-719-687-9814
E-mail:avilgiate@bivar.com
Web Site:http://www.BivarEurope.com