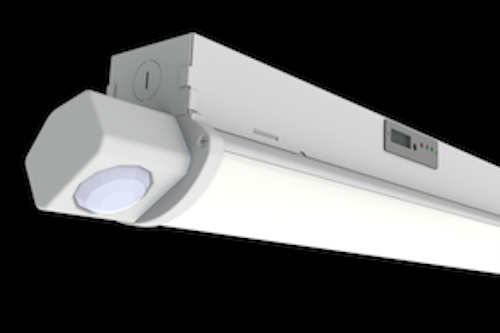 MOUNT KISCO, N.Y. -- Xeleum Lighting has announced the introduction of its new Artemis Series Ceiling Mounted LED Stairwell Light Fixture. Specifically designed for use in stairwells that may be unoccupied for long periods of time, this light fixture is capable of reducing energy usage by up to 80% over conventional stairwell fixtures that do not employ LEDs or occupancy sensors. It achieves this dramatic reduction in energy usage by automatically providing the fully ON light level of 4,280 lumens only when the space is occupied and returns to a power saving 500 lumen light level when the space is unoccupied.

Xeleum introduces Artemis ceiling-mounted LED stairwell light fixtures with occupancy sensors

Mehrdad Ghalebi, President of Xeleum stated that "among the unique features of our system is the linking of multiple fixtures through use of a ground breaking intelligent wireless RF system which, together with built-in sensors, automatically tracks occupancy so that the lights are at full brightness at the levels above, below and directly at all occupied locations, irrespective of the direction of the occupant's motion. Another unique feature is the fixture's outstanding efficiency of 105 Lumen per watt, which is exceptional for this category."

He added, "This new Artemis Series four foot ceiling mounted fixture, together with our existing Athena Series two foot wall mounted unit, go a long way toward filling the wide variety of lighting needs for low occupancy spaces such as stairwells, storage areas, commercial bathrooms and little used hallways."

Additional features include an affordable built-in battery back-up system capable of operating for 90 minutes, vandal-resistant construction and electroluminescent tape recharge capability. Installation of this four foot long ceiling mounted model is simplified because the fixture is self-contained, without the need for external sensors. The use of LEDs ensure many years of maintenance-free operation without ever having to change a bulb.

The XASC04 Stairwell LED Light Fixture is UL 924 rated, NFPA compliant, FCC certified and in conformance with DOE rulings pertaining to ASHRAE 90.1-2010, Section 9.4.16(g). Light Output is 4,280 lumens in occupied mode and 500 lumens in unoccupied mode. Input power is 41 watts in occupied mode and 12 watts in unoccupied mode.

About Xeleum Lighting
For over 25 years, Xeleum has been designing and manufacturing lighting and other electronic products for commercial, industrial and residential applications. Xeleum is an ISO-9001-2008 and ISO 13485 certified manufacturer with its world headquarters located in Mount Kisco, N.Y.

Contact:

Xeleum Lighting - George Palmiero
+1-914-773-6216

E-mail:

Web site: