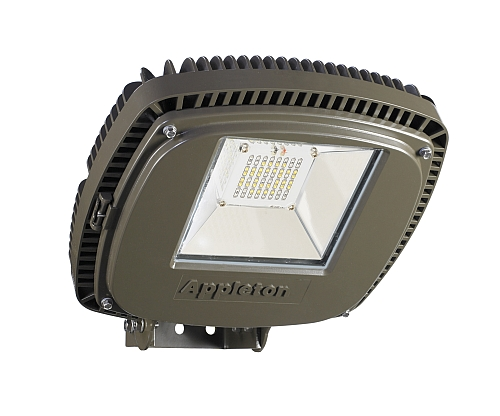 ROSEMONT, IL -- Appleton Group, a division of Emerson Industrial Automation, today expanded its Areamaster™ LED floodlight line with a non-rated, non-hazardous location version that is more rugged and energy-efficient than competitors' industrial-grade fixtures, yet at a similar price point, bringing a new level of value to the non-hazardous LED lighting market.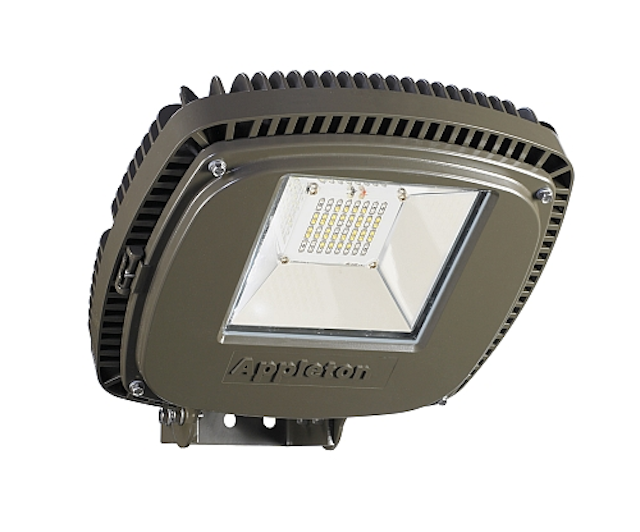 Appleton Areamaster LED floodlight provides alternative to HID, fluorescent, or incandescent lights in non-hazardous industrial applications

The new Industrial Areamaster LED is an energy-efficient alternative to conventional HID, fluorescent or incandescent floodlights. It is the perfect retrofit lighting solution for damp or wet outdoor locations or in industrial workplaces such as warehouses, assembly lines and loading docks, where it provides powerful, efficient lighting.

In 120-277V, the Industrial Areamaster LED delivers an optimal 18,000+ lumens of cool white light in a 130 degree (horizontal) x 132 degree (vertical) beam spread, which is exceptionally wide for a fixture measuring only 15-inchs square. Moreover, its highly directional light does not require the use of external optics, resulting in system efficiencies as high as 80 percent. The 750 watt equivalent industrial Areamaster LED has a correlated color temperature of 5665K resulting in a cool white hue and an impressive Color Rendering Index (CRI) rating of 70. This compares favorably to the 62 CRI rating for a pulse start metal halide or the 22 CRI rating of a high-pressure sodium lamp.

The Industrial Areamaster LED is fast and easy to install with a choice of either pendant, yoke or chain mounting, while its low profile makes it ideal for tight areas or low ceilings. Plus, because floodlighting is often deployed in public spaces, Appleton took special care to combine contemporary styling with the ruggedized, weather-proof design. Its one-piece, pressure-clad housing is precision machined from copper-free aluminum, and is finished with architectural bronze polyester for a fixture that is as functional as it is handsome.

Options available with the fixtures include a diffused polycarbonate lens (a thermal shock and impact resistant glass lens comes standard) and fusing for the 250 watt and 400 watt equivalent fixtures.

For more details, please visit www.appletonelec.com

About Appleton
Appleton is a premium line of hazardous location products under the Appleton Group family of brands. Appleton Group is a worldwide manufacturer of electrical products for virtually every type of environment. Distributors, contractors, engineers, electricians and site maintenance professionals around the world trust Appleton Group brands to make electrical installations safer, more productive and more reliable. Appleton Group is organized into three focused businesses that provide distributors and end-users expert knowledge and excellent service. It is a division of Emerson Industrial Automation and is headquartered in Rosemont, IL.

ABOUT EMERSON
Emerson (NYSE: EMR), based in St. Louis, Missouri (USA), is a global leader in bringing technology and engineering together to provide innovative solutions for customers in industrial, commercial, and consumer markets around the world. The company is comprised of five business segments: Process Management, Industrial Automation, Network Power, Climate Technologies, and Commercial & Residential Solutions. Sales in fiscal 2012 were $24.4 billion.

Contact:

Mary Krauss - Emerson
+1-800-621-1506

E-mail:

Web site: