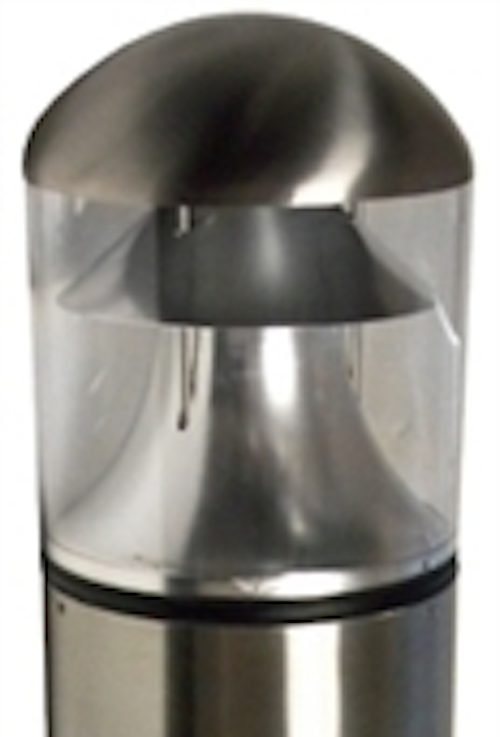 WORCESTER, Mass. -- Access Fixtures has added LED stainless steel bollard lights with a specialized cone reflector to its extensive line of bollard lights. The new stainless steel bollards are now available with a 12w LG Innotek LED module. Beyond high style, the bollard light has a die-cast aluminum interior and stainless steel exterior for enhanced durability. The stainless steel housing prevents corrosion, rust, and stains typically caused by years of exposure to the elements. Bollard lights effectively and aesthetically illuminate paths and walkways in commercial, municipal and residential areas.




"Stainless steel is one of today's most desired decorative and functional materials, and we are proud to combine that with energy-efficient LED modules," said Access Fixtures, CEO, Steven Rothschild. He continued, "Our new LED stainless steel bollard with cone reflector has added a modern option to our line of bollards while providing excellent light quality and extreme durability, ideal for high-traffic walkways."

Using only 12 watts, the new stainless steel bollard light with LG Innotek light modules maximize light output to safely and efficiently illuminate pathways, sidewalks and parking areas. The specialized cone reflector works to direct the light downward, avoiding blinding light in the eyes of passersby and drivers, and allows the maximum amount of light to be emitted. LG LED modules are rated for 50,000 hours of use greatly reducing maintenance. With excellent color consistency from luminaire to luminaire, and high light output of over 1300 lumens per module, this LED bollard with louvers is a great choice for your application.

About Access Fixtures:

Access Fixtures
offers commercial and sports lighting for less, and features light fixtures with LED, induction, eHID, PS-MH and CFL light sources that are long lasting and energy saving. With custom manufacturing capabilities, Access Fixtures can competitively build and custom finish luminaires and poles to the performance specifications required. Access Fixtures extensive lineup of interior and exterior lighting fixtures includes products for sports, commercial, industrial, residential and hospitality applications. Luminaire types include wall packs, area lights, bollards, garage lighters, vandal resistant, exit and emergency, high bay, low bay, linear fluorescent, track lighting and grow light fixtures. For more information visit Access Fixtures at http://www.AccessFixtures.com.

Contact:

Access Fixtures - Steven Rothschild
+1-508-657-8600

E-mail:

Web site: