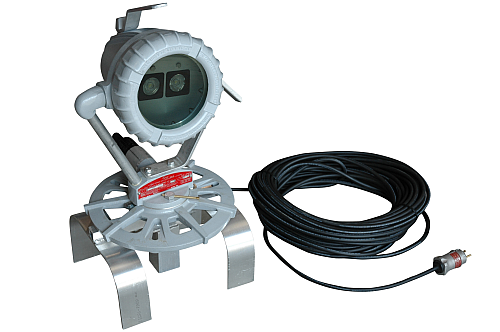 Kemp, Texas 75143 -- Leading manufacturer and distributor of industrial lighting Larson Electronics announces the release of a 6 watt explosion proof LED infrared light fixture mounted on an adjustable scaffold bracket. The 6 watt infrared light contained in this explosion proof unit is available in 750nm, 850nm, or 940nm to be used with any night vision or infrared equipment and is attached to an aluminum ladder mount bracket that allows operators to easily mount this unit to ladders, handrails, catwalks, and other similar structures.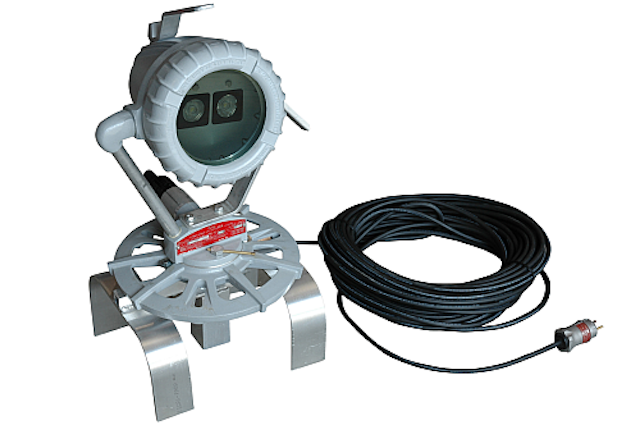 Larson Electronics' 6W explosion-proof infrared LED light features adjustable bracket mount
The EPL-JH-PMLED-6W-IR-150 scaffold mounted infrared LED fixture from Larson Electronics is weatherproof and comes with an adjustable aluminum scaffold mount that makes it ideal for industrial applications, maintenance, cleaning and servicing duties, and large hazardous work areas. This unit contains a 6 watt LED lamp that can be configured as a spot or flood beam. The lamp produces more light than a typical incandescent bulb with infrared cutoff filters. The LED lamp runs at a cool 55°F compared to the 198°F average of a 300 watt incandescent, resulting in an easier to handle unit and less heat in the workspace. The lamp is universal voltage, not multi-tap, and operates on any power source ranging from 120V through 277V.
The lamp is mounted to an aluminum bracket with an adjustable J-hook bottom bracket that enables operators to securely mount the light to any ladder or scaffolding. Lamp adjustment is made by an adjustable yolk that allows the operator to adjust the lamp both vertically and horizontally. The rail mount system has a minimum grab length of 35" and maximum grab length of 57". The light head sits 21" above the top rail bracket, and can be extended to 41" above the top rail. Each rail hook is 3" wide, and the top rail bracket has a total footprint of 16". The light can be easily detached from the mounting system, aiding in deployment, storage and transport. This unit is supplied with 150 feet of 16/3 SOOW cord ending in an explosion proof straight blade plug. All of the hardware on this unit is non-sparking/corrosion resistant and the cord is resistant to damage from chemicals and abrasion.
"This versatile mounting system gives operators an easily deployable source of powerful light that can be quickly setup and adjusted to effectively illuminate hazardous work areas, then easily stowed and transported between uses," said Rob Bresnahan with Larsonelectronics.com.
Larson Electronics carries an extensive line of LED light towers, portable power distribution systems, explosion proof lights for hazardous locations, portable work lights and industrial grade LED area lights. You can view Larson Electronics' entire line of lighting by visiting them on the web at www.larsonelectronics.com. You can also call 1-800-369-6671 to learn more or call 1-214-616-6180 for international inquiries.
Contact:
Larson Electronics
+1-800-369-6671
E-mail:
Web site: