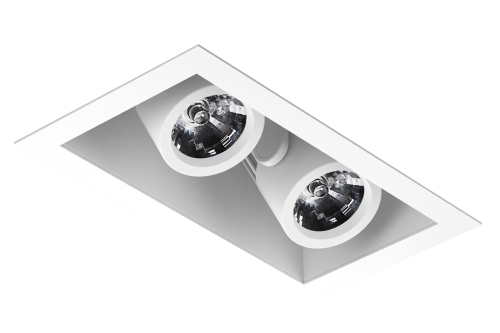 Efficient, easy install, adjustable lighting for accent and spot applications

Anaheim, CA -- Intense Lighting Inc. (www.IntenseLighting.com), a manufacturer of award-winning LED specification grade lighting solutions, has announced the release of its new MX family of LED recessed multiples and track luminaires. MX's adjustability, high performance and efficiency are suited for accent and spot lighting applications where directional light is important, such as in retail environments, museums, and galleries.

The MX family consists of two track light models; the MX Accent, with vertical driver housing, and the MXH Accent, with horizontal driver housing. The track head is also the foundation for the MX Recessed Multiple luminaires, available in 1, 2, 3, or 4 lamp configurations, a 10 " x 10 " square, in recessed, semi-recessed, trimmed, or trimless options. MX recessed multiples feature a new construction frame boasting a slim 4" width aperture. It is a self-contained assembly to allow for simple "plug and play" installation at a later construction phase.

All MX models have adjustable heads and three beam options: Spot (12°), Narrow Flood (24°) and Flood (36°). These options allow for precise light direction and maximum flexibility. At 14W per head, MX delivers more than 1000 lm and up to 77 lumens/watt, making it an ideal alternative to a 20W ceramic metal halide. Quality light is also ensured with a CRI of 82 (2700K, 3000K, 3500K or 4100K CCT) or 92 (2700K or 3000K CCT).

ELV dimming will be available for track light models, and 0-10V, ELV, Lutron Hi-Lume and Lutron EcoSystem is available for recessed multiples.

The MX line is ETL listed to US and Canadian standards for damp locations and has a 50,000 hour average lifetime at 70% output. MX is backed by a 10-Year Intense LED Limited Warranty.

Recessed multiples are available for immediate shipment, while track luminaires will be available mid-September.

MX Feature Summary:
- Delivers up to 1,077 lumens per head
- High efficiency: up to 80 lumens per watt
- Track and recessed multiple head versions
- Self-contained, frame-in assembly for easy install on recessed multiple model
- 258° vertical adjustment; 360° horizontal adjustment on both track models
- 30° vertical adjustment; 360° horizontal adjustment on recessed multiple model
- 12° Spot, 24° Narrow Flood, 36° Flood optics
- Tight color control (3-step MacAdams ellipse variation)
- 4 CCT options: 2700K, 3000K, 3500K, 4100K
- 82 or 92 CRI
- Dimmable; ELV for track lights, 0-10V, ELV, Lutron Hi-Lume and Lutron EcoSystem for recessed multiple
- 50,000 hour lifetime at 70% output
- 14W per head
- Architectural black, white or silver finish
- Accommodates up to 2 accessories per head; accessory holder required
- ETL Listed to US and Canadian standards for damp locations
- 10-Year Intense LED Limited Warranty

More information about MX can be found on the Intense Lighting website at www.intenselighting.com.

About Intense Lighting

Intense Lighting, Inc. is widely recognized as a solutions-based manufacturer of award-winning, sustainable lighting products. Innovative and energy efficient, our luminaires offer a wide variety of specification grade lighting solutions for the commercial, hospitality, supermarket, retail and residential markets. Customers can select from several broad-based product lines of LED downlights, tracklights, and recessed multiples. In addition to interior lighting, Intense Lighting offers a complete product line of outdoor luminaries including bollards, landscape, step lights, wall cylinders, wall sconces, in-ground luminaries and our popular V-Rail, an LED illuminated rail system.

Established in 2001 and headquartered in Anaheim, CA, Intense Lighting has quickly become an industry leader by continuing to deliver quality products with the shortest lead times in the industry and providing outstanding customer service. Today, with a growing team of product engineers, Intense Lighting is on the cutting-edge of research and development in LED lighting solutions backed by the company's impressive 10-year product warranty.

Intense Lighting's affiliations include memberships in the Illuminating Engineering Society North America (IESNA), U.S. Green Building Council (USGBC), Designers Lighting Forum (DLF), and the Association of Retail Environments (ARE). In addition to partnerships with Energy Star and Lighting Facts (DOE), we are an approved educational provider for the American Institute of Architects (AIA) and Green Building Certification Institute (GBCI).

For more information, please visit www.intenselighting.com or call 800-961-5321.

Contact:
Intense Lighting , LLC
+1-714-630-9877
Toll Free: +1-800-961-5321