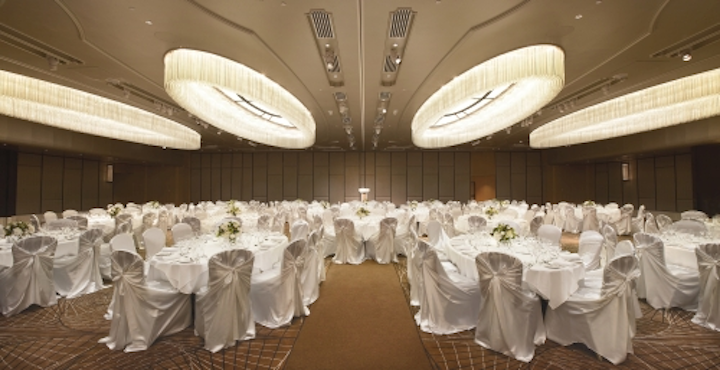 Grand Ballroom at Shangri-La, Sydney features RCL luminaires

Sydney, Australia -- One of the most famous waterfronts in the world, Sydney Harbour is home to one of the world's most exciting and vibrant lighting festivals as well boasting a lively cultural and nightlife. The historic area, known as 'The Rocks', is a prime example of successful regeneration and boasts luxury hotels such as the Shangri-La, Sydney.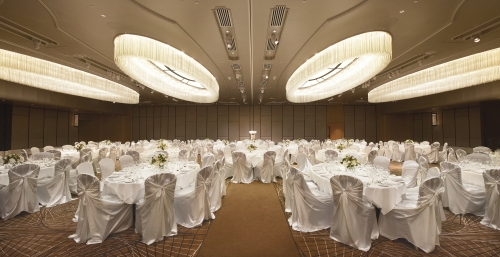 Sydney's Shangri-La hotel achieves integration of regional aesthetics with energy-efficient RCL lighting and controls

The 668m2 Grand Ballroom at the Shangri-La Sydney has undergone extensive refurbishment with a remarkable interior and lighting scheme created by Hong Kong-based design company AB Concept and Tokyo's Lighting Planners Associates, which is led by internationally acclaimed lighting designer Kaoru Mende.

Their designs have created a contemporary space of contrasting textures that combines modern Australian aesthetics with subtle indigenous motifs to reflect the story behind The Rocks. The Grand Ballroom's new interior also reflects its location by referencing Sydney Opera House and the Sydney Harbour Bridge, their curves evoked in four oval chandeliers bordered with 2,148 glowing crystal rods that create scalloped patterns and wave-like motifs on the ceiling and walls.

Remote control adds flexibility

More than 60 remote controlled spotlights from RCL add further flexibility to the lighting. A combination of Director DR7 and Director DR8 MK2 LED luminaires form the core of a complete lighting, sound and visual system. This includes a sound system, six high-definition projectors and motorised projection screens, and four skylights with customisable colour settings so that the Grand Ballroom feels as though it is lit naturally, despite being below ground.

"Like Sydney's open sky, the design concept reflected an expansive feeling, as if it was an open-air venue, with a bright and comfortable lighting environment," says Lighting Planners Associates. "The lighting system is adaptable to fit various situations and meets tight energy conservation guidelines in Australia."

Next generation luminaire

The Director DR8 MK2, RCL's next generation remote controlled luminaire, features a compact design that is ideally suited to the ceiling troughs of the Grand Ballroom. Special snoots fitted to the luminaires help to reduce glare and direct the light. Both the DR7 and DR8 spotlights can be focused wirelessly using a simple handheld remote controller from floor level, bypassing the need for mechanical lifts or long ladders. This reduces set-up time and avoids the costs and dangers typically associated with manual adjustment.

The Grand Ballroom can accommodate up to 850 guests for cocktail receptions and 500 guests for banquets. It can also be adapted for classroom, boardroom or theatre-style seating depending on the event. RCL's innovating system allows non-technical staff to highlight table centrepieces or specific areas for an event, increasing the versatility of the space.

The A$6m refurbishment helped place the Shangri-La, Sydney in Conde Nast Traveller's Top Ten Hotels in Australia and the Pacific.

"Since launching the renovated Grand Ballroom in late 2013, we have hosted a number of high profile events which were elevated by the space's state-of-the-art audiovisual capabilities," said general manager Michael Cottan. "Our clients appreciate the option to customise the lighting and ambiance of the Grand Ballroom with the use of colour and rotating spotlights. These features have enabled guests to bring their vision to life in a very elegant space."

The Shangri-La, Sydney represents the 31st Shangri-La Group property to incorporate RCL luminaires into their design. RCL has supplied remote controlled luminaires to virtually every major hotel brand, including, Four Seasons, InterContinental, Mandarin Oriental, Marriott and Sheraton.

Project: Shangri-La, Sydney – www.shangri-la.com/sydney
Lighting Design: Lighting Planning Associates – www.lighting.co.jp
Lighting Design: AB Concept – www.abconcept.net
Photography: Shangri-La, Sydney – www.shangri-la.com/sydney –

About Remote Controlled Lighting
Remote Controlled Lighting (RCL) is the only company in the world to specialise in the design and manufacture of remote controlled spotlights. Its patented technology allows luminaires on high ceilings or inaccessible structures to be focused from floor level. No need for the cost, delays and dangers associated with long ladders, scaffolding and mechanical lifts. Spotlights can be individually aimed and dimmed by non-technical staff using a simple hand-held laser controller or RCL-designed iPad app called iDirect. With more than 75,000 fixtures specified to date throughout the world, RCL products are widely used in hotel ballrooms, banqueting suites, art galleries, museums and store windows. Established in 2001, RCL is based in London, UK, where its research and development facilities are located.

Contact:

Remote Controlled Lighting - Spence Baxter

E-mail:

Web site:

www.rclighting.com

Submit new products, case studies/projects, and other press releases at http://www.ledsmagazine.com/content/leds/en/addcontent.html and http://www.ledsmagazine.com/content/leds/en/iif/add.html.