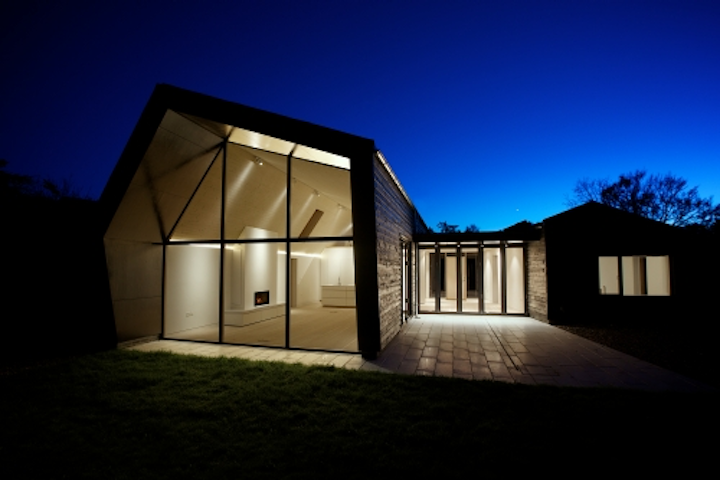 London, United Kingdom — Precision Lighting's Discus LED fixtures provide discrete, low-energy lighting to complement the use of natural light and the clean contemporary design of an eco-house built recently in Kent.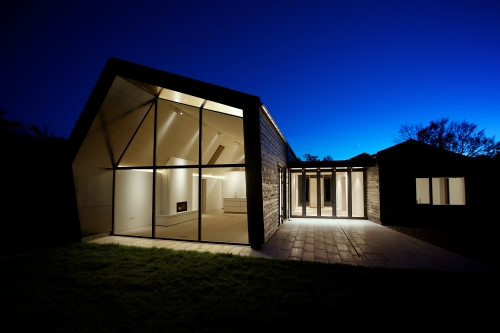 Precision Lighting's Discus LED fixtures integrate with eco-house architecture

Nash Baker Architects' design for the house in Tonbridge, Kent has been shortlisted for the 2014 National Wood Awards. The private residence is designed to the Code for Sustainable Homes covering elements from the construction materials – locally sourced timber – to the LED lighting.

The house is located in the grounds of a traditional nineteenth-century oast house whose owners wanted an accessible and sustainable contemporary home for their retirement. Natural light, outlook and privacy were all maximised in Nash Baker's design.

LED lighting blends with decor and natural light

Lighting design consultant Tad Trylski specified Discus LED fixtures and Precision Lighting's propriety lighting track system, Retrac. Both are white to blend seamlessly into the surrounding architecture allowing the artificial lighting to appear natural; adding to the sense of spaciousness and freedom within the rooms.

The off-white walls helps balance the use of timber, and provide a suitable backdrop for the British-Danish couple's eclectic art and furniture. The minimal lines of the recessed Retrac system reflect the simple lines present in the surrounding architecture. The Douglas fir flooring and the exposed ceilings are treated with lime to lighten their finishes and prevent the wood yellowing over time.

'All spaces and views to and from the property have been channelled for maximum light and privacy, responding to natural sun patterns as well as the clients' brief to create quieter sanctuaries away from the social areas of the house,' says Nash Baker.

'The Precision Lighting fittings were used to highlight specific surfaces and objects, including the worktops and artworks,' says architect Simon Baker. 'The building is constructed from cross laminated timber with no roof voids in which to insert light fittings, so we looked at track systems that would give us a clean-appearing ceiling and the flexibility to move fittings. In areas, we also had to project light over quite long distances because of the tall ceilings.

'We used Precision Lighting because of their range of aesthetically simple and small fittings, which met our performance criteria. The company itself was a pleasure to work with because of their willingness to help on what was a relatively small domestic project.'

Lighting effects can be locked into architecture

Precision Lighting's Discus 11 and 16 range of clean-lined, functional LED luminaires are designed to integrate unobtrusively into the surrounding architecture. The range comes as standard in white, black and brushed aluminium finishes. Lighting and interior designers like them because they can be used to create precise lighting effects from wall washes – for completely even lighting – through to projecting sharp images on to surfaces. They can also be locked into position in pan and tilt so that they cannot be knocked or drift out of focus.

Precision Lighting offers a choice of track lighting systems. Retrac is a low voltage system. Rated at 300W, it is designed to be recessed into walls or ceilings, providing an extremely versatile system for general or display lighting. It can be installed with the track flush to a ceiling and with the rest of the lighting slotting into place after the decoration is complete, or surface mounted. An optional cover strip can also be painted to match the decor.

Discus is machined from aerospace-grade AL 6063-T6 aluminium, which ensures far more efficient thermal properties than a cast product. This allows Discus to deliver a lumen package of 280-470lm from an incredibly compact luminaire. The high thermal conductivity of this grade of aluminium enables Precision Lighting's luminaires to be some of the smallest on the market, while safely running the LEDs well below their recommended maximum temperature. Precision Lighting's Jack Plug system enables the luminaire to be easily disconnected and reconnected to all of Precision Lighting's systems.

About Precision Lighting
Precision Lighting is a design-led specialist lighting manufacturer based in London and recognised for the versatility and design aesthetic of its high-specification, precision-engineered lighting systems and luminaires. Precision Lighting's range includes LED, low-voltage halogen and metal-halide spotlights for surface-mounted and recessed track or monopoint systems. They are widely specified by architects and lighting designers in sectors such as retail, museums and galleries and the workplace where they are valued for their excellent beam and glare control. In addition to developing new products, Precision Lighting's R&D team designs and supplies bespoke products using in-house prototyping and testing facilities.

Project: Bourne Lane private residence
Architect: Nash Baker Architects – www.nashbaker.co.uk
Lighting designer: Tad Trylski
Photography: Will Layzell Photography – www.willlayzell.com
Contact:

Spence Baxter - Precision Lighting
E-mail:

Web site:

http://precisionlighting.co.uk
Submit new products, case studies/projects, and other press releases at http://www.ledsmagazine.com/content/leds/en/addcontent.html and http://www.ledsmagazine.com/content/leds/en/iif/add.html.