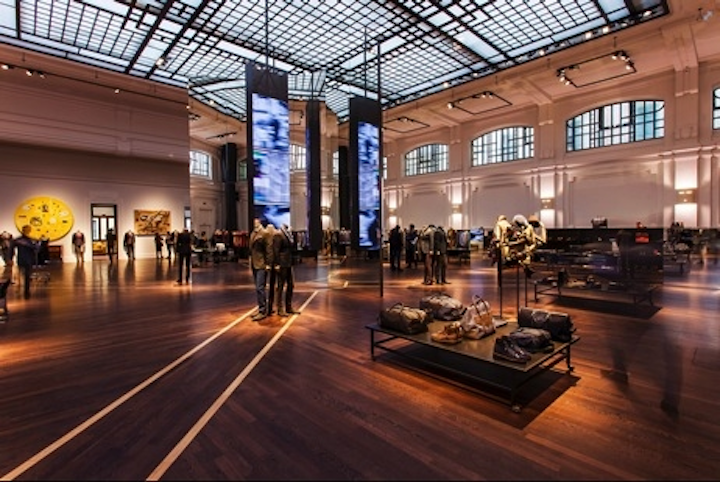 Lüdenscheid. Be it a neat suit, an elegant evening dress or just a pair of casual jeans – clothes are an expression of our personality, yet before we step out in public with new garments, we must first take inspiration from our trusted sources in the world of fashion. What, though, defines a good shop concept that sees us return time and time again? Interior designers face special challenges in view of the complex requirements behind the effective illumination of fashion: Appeal and quality of the products and their value must be projected optimally. In this way, the importance of the right lighting concept becomes clear: lighting tools should respond to frequently changing collections and decorations, accurately render the colours of fabric, and draw the attention of the customer to where it is wanted – modern LED technology provides a great solution. The latest generation of lighting tools delivers a quality of light that matches the standard of conventional light sources, yet is significantly longer lasting and more efficient.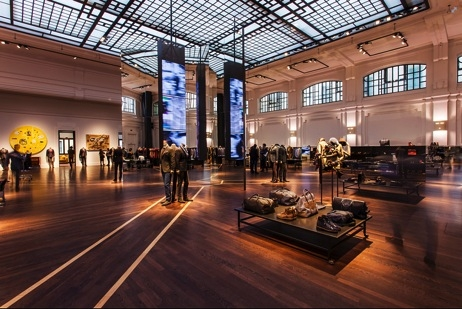 ERCO solid-state lighting achieves eye-catching effects in retail projects

The language of light
Around 80 per cent of the information we receive about the world around us comes through our eyes. It is, therefore, clear that careful thought must be given to a sophisticated lighting solution for use in fashion stores. Our visual perception is influenced not so much by the quantity of the lighting, but rather by its quality. As one of the great pioneers of qualitative lighting design, Richard Kelly (1910-1977) developed a perception-orientated lighting concept in the 1950s which, to this day, provides the basis for good lighting design. Kelly broke away from the rigid constraints of using uniform illuminance as the central criterion of lighting design. He replaced the question of lighting quantity with the question of individual qualities of light. Kelly made a distinction here between three basic functions:
- "Ambient luminescence" is the element of light that provides general illumination of the surroundings.
- "Focal glow" typifies directed lighting used to attract attention, accentuate and create hierarchies of perception.
- "Play of brilliants", finally, is light as an aesthetic end in itself and adds light effects for a special ambiance in the room.

Designing with light
Kelly's concept of the three lighting functions dates back more than half a century, yet has lost none of its relevance despite the ongoing revolution of lighting technology away from the incandescent light bulb and towards LED technology. Simple perception-orientated differentiation today translates into a complex lighting concept which meets the current requirements of shop lighting:

The ideal lighting concept combines all three light categories in a well-balanced relationship. Ambient luminescence delivering pleasant brightness to the room is provided by lighting tools such as downlights and wallwashers. This light forms the basis for a shop concept as it facilitates general orientation and creates good visual comfort. The choice of colour temperature sets the tone for more scenic illumination: Neutral white light creates a fresher, dynamic atmosphere suitable, for instance, for the presentation of sports fashion. Warm white light, on the other hand, produces a more formal, distinguished ambiance frequently favoured in the high-end fashion segment.

Many brands in the retail sector give emphasis to focal glow as a central component of their lighting concepts. This is the domain of compact LED lamps with directed light, which delivers the key parameters required for the presentation of textiles: brilliance and modelling are best achieved using positionable and rotatable spotlights flexibly mounted on track systems. The repertoire of LED lighting tools available today offers many diverse application possibilities: spotlights and floodlights scenically illuminate walls, product shelving or small decorative islands, and optimally emphasise materials, textures and colours. LED technology today is well advanced for the lighting tools to produce brilliant light without spill light, thereby ensuring precision with projected accentuation lighting. By using different lens systems such as Spherolit technology, LEDs can emit light ranging from wide to very narrowly focused beams – with the added benefit of a highly efficient energy footprint. Compared to low-voltage halogen lamps, LEDs can easily reduce the connected load in a store by up to 80 per cent.

As a decorative lighting component, the play of brilliants adds scenic effect in a variety of ways. Coloured light may serve as a background for the white light illuminating the products to create a magnetic atmosphere. Light and fashion, as a result, merge into a brilliant focal point.

LED lighting design – the more efficient option in fashion retail
High-quality colour rendering is a vital criterion for the illumination of textiles, and LEDs excel in this area. With colour rendering indices in excess of Ra 90, their light largely simulates natural light, thereby satisfying the prerequisites for illuminating fashion with light that precisely brings out its true colours. Additionally, LEDs are a highly energy-efficient light source and therefore offer an attractive alternative in the retail sector. With an exceptionally long service life of at least 50,000 hours, LEDs save up to 80 per cent in energy costs compared to halogen lamps. Weighed against lighting systems with high-pressure discharge lamps, LED luminaires radiate significantly less heat leading to cost savings as a result of more energy-efficient air-conditioning in the store.

The Kiton Showroom in Milan – illuminated using the language of light: Mounted at a height of around eight metres, the spotlights unobtrusively retreat into the background of perception. Adding focal glow, their light emphasises the products precisely in brilliant colours. Wallwashers bathe individual sections of the wall in light adding ambient luminescence to the daylight entering through the skylight. Photo: ERCO

Image:
Milan is one of the world's leading fashion capitals – a look into its local stores reveals which lighting solutions experts in the industry use to ensure optimal staging of their high-end products. Further material on the individual projects can be made available.

Projects:

Kiton Showroom, Milan
Exquisite colour rendering, strong contrast and accent lighting bring out the materials and details of the products vividly – the Kiton Showroom in Milan shows how to illuminate fashion in spectacular yet efficient light using LED lighting tools.

The lighting designers of Gruppo C14 rose to the challenge of fulfilling diverse requirements in the Kiton showroom by opting for a brand-new and highly innovative lighting solution courtesy of ERCO: The exceptionally powerful retail spotlight Opton with warm white LED light in 38W and 28W versions and 6-degree narrow spot with up to 3105lm covers the full bandwidth of lighting requirements of the Italian menswear fashion label. Despite a significant distance between ceiling and products, ERCO's spotlight with its unusually narrow beam for LED lighting and its high lumen packages excels at illuminating the products with high-contrast accent lighting – a result made possible only by ERCO's lighting tools. Black lacquered and mounted on tracks, ERCO's system design thus becomes a stylish architectural feature that effortlessly blends history with modernity.

Antonia Store, Milan
Edgy vistas, tall semi-circular arches and clear, geometrical lines make for a charming contrast to partly unfinished walls. An exclusive interior made of quality woods, textiles, glass and leather invites shoppers to linger and browse.

Optec LED spotlights and Quintessence downlights underline the diverse textures of the luxurious materials and the atmosphere of historicising architecture. Accent light is used for effective spot or flood illumination of the high-end products. Some of the other ERCO lighting tools find use in rather more unusual ways: transformed into sound tools by the Black Out lighting designers, who removed the LED PCBs from a number of spotlights and installed audio system loudspeakers in the luminaire housing.

Concept Store Lanificio di Tollegno & Ragno
Two fashion labels, one store – Whereas Tollegno emphasises the craft aspect using warm wood tones, an interior reminiscent of a workshop and details such as oversized reels of yarn, the shop design of Ragno is based on clear lines, Eames furniture, and fresh grey and white shades.

The lighting concept creates a symbiotic coexistence using different light temperatures for the two room sections: Tollegno products are sharply accentuated and consistently illuminated with warm white light at 3000K for a cosily traditional atmosphere. The Ragno range, in contrast, is bathed in diffuse and cool light at 4000K for a younger, snazzy ambiance. In addition, Optec LED spotlights add to optimal illuminance for the diverse palette of colours and textures of the respective labels. ERCO's flexible lighting tools subtly create a consistent setting throughout the Concept Store that allows customers to change quite naturally between the separate brand environments.

About ERCO
The ERCO Light Factory in Lüdenscheid is a leading international specialist in architectural lighting using LED technology. The family business, founded in 1934, now operates with over 60 subsidiaries, branches and agencies all around the world. Working closely with architects, lighting designers and engineers, ERCO develops lighting tools for customised lighting solutions in architectural projects for culture and retail, work and hospitality, life and public buildings. ERCO understands light as the fourth dimension of architecture.
Contact:

ERCO GmbH - Wiebke Lang, Group Manager Content
+49-(0)-2351-551-345
E-mail:

Web site:

Submit new products, case studies/projects, and other press releases at http://www.ledsmagazine.com/content/leds/en/addcontent.html and http://www.ledsmagazine.com/content/leds/en/iif/add.html.