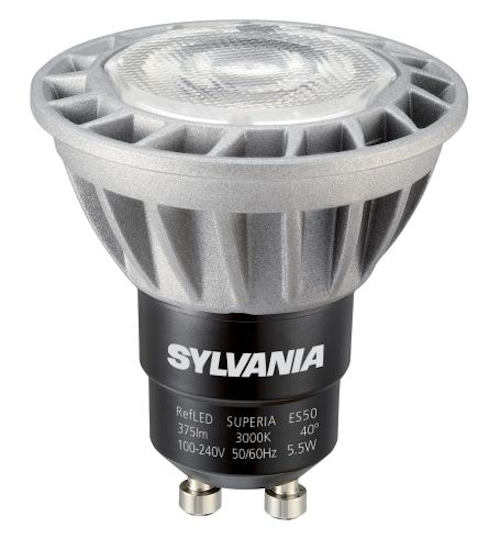 Sylvania has launched a new generation of high quality GU10 LED PureForm lamps starting with the introduction of the RefLED Superia ES50 375Lm. PureForm lamps by Sylvania exceed the IEC standard and match the actual shape, size and profile of a halogen so that the replacement lamps fit in all luminaires.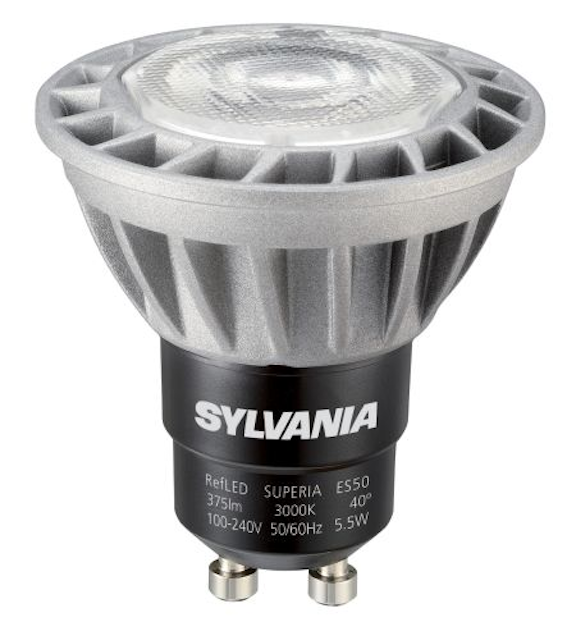 Havells Sylvania GU10 PureForm LED lamps achieve efficacy up to 68 lm/W

Compared to previous GU10 50W equivalent LED lamps, the new PureForm GU10 lamps offer an increased light output, longer life, lower operating power and a higher efficacy of up to 68Lm/W. The lamps also incorporate Coolfit technology for better thermal management enabling them to be used in enclosed fixtures.

"PureForm is more than a feature, it is our design ethos at Sylvania," comments Edward Lees, Strategic Business Unit Manager LED at Havells Sylvania. "We aim to retrofit perfectly the traditional lamp types making sure customers can switch to new technology without any headaches. PureForm represents the very essence of the traditional lamp in a modern guise and the new RefLED Superia ES50 is just the first example of this."

Using the latest LED chip technology combined with Sylvania's expertise in product development, the new RefLED Superia ES50 375Lm is the next evolution of LED replacements for traditional, energy-hungry halogen lamps. With 50,000 hours life in open fixtures and 25,000 hours in demanding enclosed environments; lamp replacement and maintenance costs are dramatically reduced. Consuming only 5.5W of power helps reduce energy consumption by up to 90% offering payback in as little as six months. This compact, long life and efficient light source delivers a rapid return on investment with the quality and reliability that is synonymous with Sylvania LED lamps.

The RefLED Superia ES50 GU10 375Lm (54W equivalent) is available in range of colour temperatures; 2700K homelight, 3000K warmwhite and 4000K coolwhite all in a choice of 25˚ or 40˚ beam angles.

Manufactured at Sylvania's state-of-the-art facility in Tienen, Belgium, these lamps continue Sylvania's quest to push the boundaries of LED technology and cement the company's commitment to delivering the very best quality LED lamps to customers. These lamps are supported by a market leading six-year warranty for complete peace-of-mind.

For more information please visit www.sylvania-lamps.com and test out the energy saving calculator to find out the savings that can be made by switching lamps.

About Sylvania Lamps from Havells Sylvania
The Sylvania brand is part of the Havells Sylvania Group and is one of the world's largest manufacturers of artificial light sources. It has a broad product offering that includes incandescent, halogen, CFL, HID and LED lamps, alongside various special products for the professional specifier. Sylvania lamps are distributed from stock, through national sales operations, as well as via individual countries' professional distribution channels such as wholesalers, specifiers and installers; as well as to the consumer via the retail channel.

Formed in April 2007, Havells Sylvania is owned by Havells India Ltd, a US$ Billion plus company. With 94 branches and representative offices worldwide, and over 8000 employees working in more than 50 countries; Havells has grown rapidly since its humble beginnings in Delhi in 1958. Havells has eighteen manufacturing plants in India, Europe, Latin America and Africa; producing globally acclaimed products, including: switchgear, cables, wires, luminaires and lamps.
Havells Sylvania is a leading, full-spectrum provider of professional and architectural lighting solutions. Built on over a century of expertise in lamps and luminaires, Havells-Sylvania supplies state-of-the art products and systems to the public, commercial and private sectors, worldwide. Havells Sylvania strives to deliver the finest products, service and consulting possible. All over the world, people rely on group companies: Concord, Lumiance and Sylvania, for top quality, energy-efficient solutions to suit their individual lighting needs.
Contact:

Havells India Ltd
+91-120-4771000
Web site:

Submit new products, case studies/projects, and other press releases at http://www.ledsmagazine.com/content/leds/en/addcontent.html and http://www.ledsmagazine.com/content/leds/en/iif/add.html.