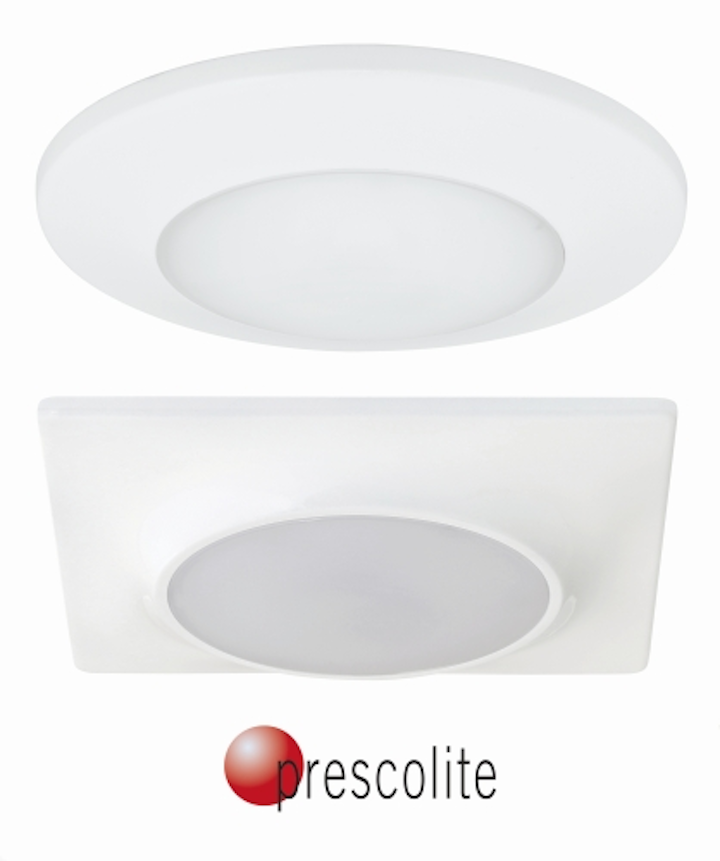 Greenville, SC – Hubbell Lighting, a world leader in lighting innovation, launched an all-in-one LED commercial downlight fixture — Prescolite's LBSLEDA. Built to fit a standard 4x4 J-Box, the new fixture is the perfect alternative to recessed products in settings where plenum height is challenging or where fire codes restrict the use of recessed fixtures. Ideal for commercial, new construction, remodel, and residential applications, the LBSLEDA embraces an installation system that is versatile, simple, and seamless.
Hubbell Lighting launches Energy Star and Title 24-compliant Prescolite LED downlight

Available in a 7-inch round and square (LBSQLEDA) version, the LBSLEDA features an intuitive snap-in system that makes flush mount installation incredibly easy. Users only need to install the snap-in adapter, connect wires and then snap the fixture into place with the flushmount clip. The fixture also includes an E26 Edison Base adaptor for a retrofit screw-in option. For recessed applications, the optional LBSMTGKIT mounting kit allows for simple installation into Prescolite or many competitive 4", 5", or 6" recessed cans.

Featuring a sleek profile barely exceeding 1 inch from the ceiling, the LBSLEDA offers the latest in state-of-the-art LED technology that eliminates the need for a traditional LED driver. Delivering a lumen output and light distribution comparable to a 100W PAR incandescent lamp, the energy-efficient LBSLEDA delivers 1000 lumens and a CRI above 90, while only requiring 17 watts of input power. With a long life of 42,000 hours at L70, the LBSLEDA is IC/Non-IC rated and suitable for damp locations.

To learn more about Prescolite's new LBSLEDA, please visit www.prescolite.com.

About Hubbell Lighting
Hubbell Lighting is one of the largest lighting fixture manufacturers in North America. The company provides a full range of indoor and outdoor lighting products serving the commercial, industrial, institutional, and residential markets. Hubbell Lighting brands include Alera Lighting, Architectural Area Lighting, Beacon Products, Columbia Lighting, Compass Products, Devine Lighting, Dual-Lite, HomeStyle Lighting, Hubbell Building Automation, Hubbell Industrial Lighting, Hubbell Outdoor Lighting, Kim Lighting, Kurt Versen, Litecontrol, Prescolite, Progress Lighting, Security Lighting, Spaulding Lighting, Sportsliter Solutions, Sterner Lighting Systems, Thomasville Lighting, and Whiteway. Hubbell Lighting: one name, distinctive brands, limitless lighting possibilities. For additional information, please follow Hubbell Lighting on LinkedIn, YouTube, Twitter and Facebook.
Contact:

Andy Beck - for Hubbell Lighting
+1-202-587-5634
E-mail:

Web site:

Submit new products, case studies/projects, and other press releases at http://www.ledsmagazine.com/content/leds/en/addcontent.html and http://www.ledsmagazine.com/content/leds/en/iif/add.html.