Insta Elektro RGBW LED luminaires and controls produce artistic lighting effects at Essen-Steele transport hub
Nov 27th, 2014
Every day, around 20,000 people use the transport hub at Essen-Steele. Now, they can enjoy step-free embarkation and disembarkation for all their connections, in trams, buses and suburban railways. Besides direct access to the buses, lifts and modern toilet facilities, the optical highlight, the new spacious roof of the transport hub, characterises the customers' understanding of the concept of comfort.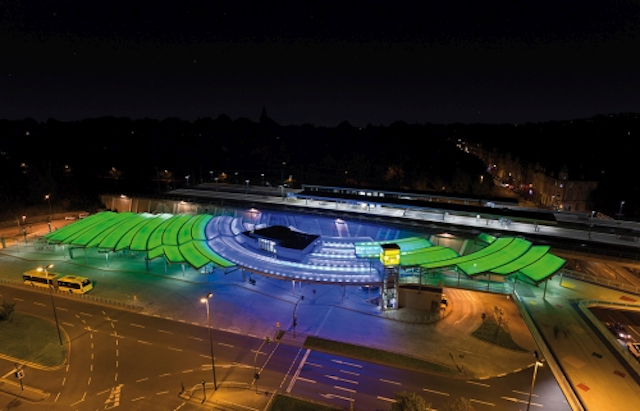 Insta Elektro RGBW LED luminaires and controls produce artistic lighting effects at Essen-Steele transport hub

This roof consists of three partially overlapping roof areas. These were implemented with a kind of air cushion, which, when illuminated with Insta luminaires of the product range instalight 1065 with RGBW technology, produce a unique visual impression, not only during daylight.

Now, this roof area, either controlled as a single entity or in single segments, can produce an ever-changing impressive experience.

The newly-created light-permeable roof construction, with an area of approx. 3,300 square metres, possesses an ETFE film (ethylene-tetrafluoroethylene). Besides the unique lighting experience, this also offers benefits such as low flammability, resistance to dirt, minimal cleaning work required and, as we can see, is very well lit.

A total of 621 special design instalight 1065 spotlights from Insta Elektro GmbH in Lüdenscheid were mounted on the pipe construction of the roof.

They are controlled via the Insta controller "instalight Control." The light installation was activated in an extremely environmentally-friendly and economical manner using a twilight sensor and, at night, set to a static white using a timer.

This impressive lighting has made the modern architecture of the new transport hub a real urban asset in Essen-Steele.

Photo Credit: lokomotiv.de

Customer: Essener Verkehrs AG
Architect: Uwe Butenberg, EVAG Immobilienmanagement
Light design: Uwe Butenberg, EVAG Immobilienmanagement
Electrical planning: Kai Babohn, EVAG-TGA
Product: instalight 1065 RGBW, instalight Control
LED light technology: Insta Elektro GmbH, Lightment, represented by TLV

Contact:

Insta Elektro GmbH - Hans-Joachim Dietrich
E-mail:

Web site:

Submit new products, case studies/projects, and other press releases at http://www.ledsmagazine.com/content/leds/en/addcontent.html and http://www.ledsmagazine.com/content/leds/en/iif/add.html.