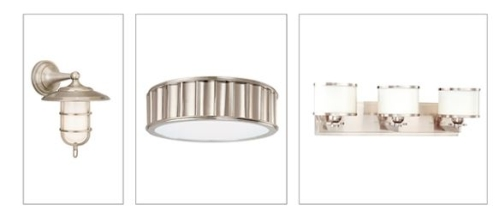 LONG ISLAND, NY – Littman Brands is proud to sponsor the renovation of Ronald McDonald House of Long Island (RMH-LI) for the second year with its next phase – Project Design 2014. All three decorative lighting brands under Littman Brands, Hudson Valley Lighting®, Corbett Lighting and Troy Lighting, as well as their task and downlight category, CSL® (Creative Systems Lighting), all contributed to this special renovation. RMH-LI is a respite for seriously ill children undergoing treatment at area hospitals, as well as their families.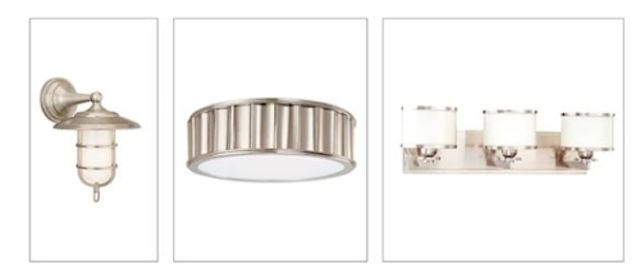 Littman Brands donates solid-state lighting fixtures to Long Island Ronald McDonald House renovation project

Left to right: Hudson Valley Lighting's Rockford, Middlebury and Basking Ridge.

Corbett Lighting and Hudson Valley Lighting previously provided fixtures as part of Phase I of the RMH-LI renovation initiative, and this year, additional Littman Brands products have been added for Phase II. This second renovation project continues with the addition of 24 bedrooms, four kitchens, five common areas, laundry rooms and the creation of a brand new fitness center and meditation room. Project Design 2014 brought together more than 45 of America's leading interior designers with many incorporating Littman Brands' vast selections of quality, unique fixtures into their designs.

Starting with Hudson Valley Lighting, four nautical Rockford sconces can be seen in a guest room by Baltimore Design Group. Kelly Dall Interior Design Inc. also designed a guest room and private bath that included a traditional Middlebury flush mount in the bedroom and Basking Ridge 3 light vanity in bath. In addition, the Dalton flush mount with double pressed glass in a honeycomb pattern was used by Vintage Interior Design Inc. for the dairy section of the Kosher Kitchenette. A square Preston flush mount was also used in the entry of a guest room designed by Philip Gorrivan Design, while another guest room and private bath designed by Schermerhorn Interior Design includes a Brighton vanity sconce in the bath and six CSL (Creative Systems Lighting) Eco-Downlight LED 3" recessed downlights in the guest room.

In addition, Troy Lighting's zen-inspired Blink vanity sconce can be seen in the bath by Robin Baron Design, while the fun and whimsical Uni flush mount is also used in an additional bedroom by BJS-Assoc. Interior Design. Two Gables post lanterns by Troy Lighting also illuminate the magical rooftop retreat by Suzanne Costa Interiors. Finally, the en suite bedroom by Pavarini Design features Corbett Lighting's contemporary Fathom LED wall sconce.

"We are honored to have Littman Brands involved in Project Design again in 2014 and that we can play a larger role in this very special second phase of the renovation," said David Littman, founder and chairman of Littman Brands. "This year, many of our stand out designs such as Troy's Uni and Corbett's Fathom LED fixtures were chosen, as well as a selection of unique flush mounts from Hudson Valley. We are proud to help this special cause and to see our vast selection of designs – from traditional to contemporary – adding light throughout the home."

The culmination of the RMH-LI Project Design 2014 started with a Designer Showcase Gala on October 9th, with an open house October 10th through October 19th. For more information about RMH-LI, please go to http://www.rmhlongisland.org.

About Littman Brands
Littman Brands is renowned for unique custom designs and high-quality lighting solutions for the residential, hospitality and contract arenas. Led by Founder and Chairman David Littman, whose family has maintained a key leadership role in lighting design for more than 85 years, Littman Brands is represented by four distinct brands: Corbett Lighting, Hudson Valley Lighting®, Troy Lighting and CSL® (Creative Systems Lighting). Each brand reflects an individual identity and specialization while maintaining the promise of uncompromising quality, expert craftsmanship and groundbreaking design. For more information about Littman Brands, visit www.littmanbrands.com.

About Ronald McDonald House of Long Island (RMH-LI)
The Ronald McDonald House of Long Island is the 100th House of over 300 Ronald McDonald House programs worldwide. Located in New Hyde Park on the campus of the Steven and Alexandra Cohen Children's Medical Center of New York, the House accommodates families in a warm and supportive environment. For 28 years, RMH-LI has been a home-away-from-home for over 19,000 families in the United States and more than 80 countries around the world who are dealing with the pain of having a child undergoing medical treatment at nearby hospitals. For more information about RMH-LI, log on to www.rmhlongisland.org, www.facebook.com/rmhli or www.twitter.com/rmh_li.
Contact:

Mariakay Chakos - for Littman Brands
E-mail:

Web site:

Submit new products, case studies/projects, and other press releases at http://www.ledsmagazine.com/content/leds/en/addcontent.html and http://www.ledsmagazine.com/content/leds/en/iif/add.html.