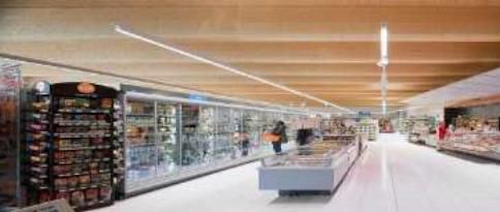 Lighting solutions using the TECTON continuous-row lighting system have been very successful in Europe for more than 10 years. Proud of its UL certification as well as a Green Good Design Award, TECTON LED is now also conquering the North American market.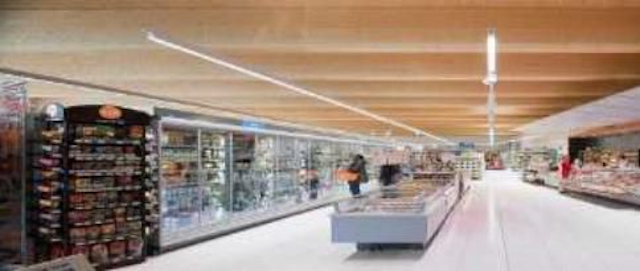 Zumtobel launches UL-certified Tecton LED luminaire in North America, wins Green Good Design award

Dornbirn -- TECTON is a veteran globetrotter. Since the product was launched approximately 10 years ago, more than 6,000 miles of trunking have been sold, roughly covering the distance between Vienna and Los Angeles. Having been granted UL certification, TECTON LED is now also available in North America.

The official North American launch coincided with another milestone in the success story of the product range: TECTON LED won the coveted Green Good Design Award. For the sixth time, the renowned Chicago Athenaeum Museum of Architecture and Design invited manufacturers to submit products for this special award that is granted for particularly sustainable design. The panel of judges reviewed hundreds of entries from all over the world and a vast variety of different sectors, selecting the Zumtobel TECTON LED luminaire as one of the 100 best products.

TECTON LED features both flexibility and efficiency, two of the most prominent characteristics of the continuous-row lighting system. In practical use, these features provide perfect lighting conditions in a wide variety of projects, from industrial bays to supermarkets. Wolfgang Egger, Executive Vice President of Zumtobel North America, believes that his North American customers will benefit significantly from this added value: "An investment in the future, TECTON LED provides maximum flexibility for the client. Since the LED modules can be positioned variably as required by the specific application, even if initial requirements change, the lighting solution can be adjusted easily. The TECTON LED luminaire is also impressive because of its easy no-tool installation, which means that if even more powerful LED modules are launched in the future, migration to these modules will not pose any difficulties."

In North America, TECTON LED is available as a surface-mounted or pendant luminaire, and can be used as an individual luminaire or as a continuous-row lighting system. What makes the luminaire so special is the 7-pole current conducting section built into the trunking, which ensures that various functions such as power supply or lighting control can be integrated directly without additional effort. With this multifunctional basic unit, the lighting modules, light sources and optics may be exchanged or added as necessary to meet specific project requirements. TECTON LED is a one-stop solution boasting an unobtrusive design that makes the created lighting effect come to the fore in any room. With a service life of 50,000 hours at 80 percent of luminous flux, TECTON LED consumes significantly less energy and requires a minimum of maintenance, thereby increasing the lighting solution's technical and economical efficiency.

About the Good Design Award
The Good Design Award, one of the world's most renowned design prizes, was established in Chicago in 1950. The purpose of the special Green Good Design award is to focus public attention on outstanding examples of sustainable design, and to honor the commitment of the companies involved that seek to design products that are in harmony with the environment.

For more information on TECTON LED, please visit: http://www.zumtobel.us/TECTON

Caption:
(Photo credits: Zumtobel)
In practical use, these features provide perfect lighting conditions in a wide variety of projects, from industrial bays to supermarkets.

About Zumtobel
Zumtobel, a leading international supplier of integral lighting solutions, enables people to experience the interplay of light and architecture. As a leader in innovation, Zumtobel provides a comprehensive range of high-quality luminaires and lighting management systems for professional interior lighting in the areas of offices, education, presentation & retail, hotel & wellness, health, art & culture as well as industry. Zumtobel is a brand of Zumtobel AG with its head office in Dornbirn, Vorarlberg (Austria).
Zumtobel. The Light.
Contact:

Zumtobel Lighting GmbH - Sophie Moser, PR Manager
+43-5572-390-26527
E-mail:

sophie.moser@zumtobelgroup.com
Web site:

Submit new products, case studies/projects, and other press releases at http://www.ledsmagazine.com/content/leds/en/addcontent.html and http://www.ledsmagazine.com/content/leds/en/iif/add.html.