LEDtronics DLC-Listed LED high bay fixtures achieve fast ROI with low maintenance costs
Jun 15th, 2016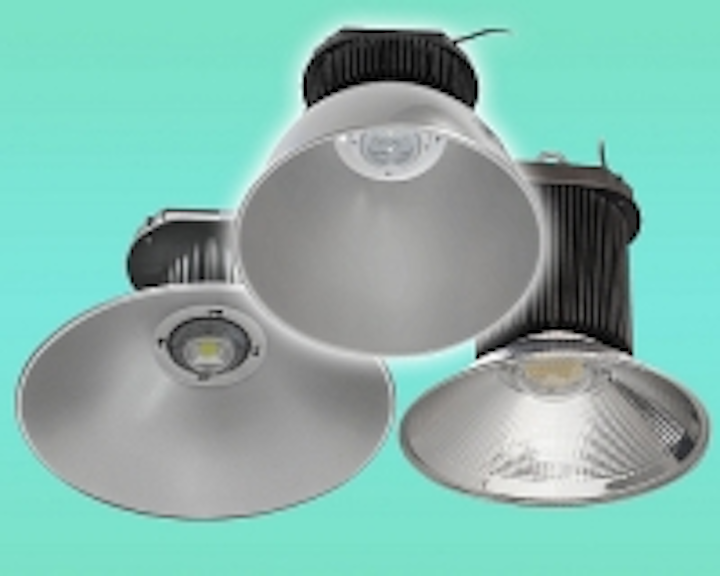 LEDtronics® announces our brand new DLC-Listed LED High Bay Fixtures. They're on the DLC list of approved products, making them eligible for rebates. If you're looking for a classic High Bay look with the energy savings of LED, look no further.
Interested in more articles & announcements on LED lighting?

LEDtronics HBL003DL series come in a Wide Beam and a Medium Beam. The High Bays come in a range of wattages that only consume 100 to 300 watts, but replace HID lights of 250 all the way up to 1000 watts. The Wide Beam comes in 120, 150 and 200 watts, while the Medium Beam comes in 100, 240, and 300 watts. The lumen output of this LED High Bay series ranges from 9,061 lm all the way up to 23,587 lm.
These DLC-Listed LED High Bay Fixtures are ideal for such applications as Factory Floors, Warehouses, Big-Box Stores, Supermarkets, Shopping Malls, Convention Centers, Parking Garages, Gymnasiums, Indoor Arenas, Libraries and many more.
an excellent return on investment. They offer energy savings of up to 70 percent over HID, and have a Lumen Maintenance of over 70 percent at over 50,000 hours (well over five years).
Everyone knows HID lights aren't sustainable and go out often. High Bays are commonly installed in difficult-to-reach areas, so repeatedly sending maintenance works to install replacements can be expensive and inconvenient. Our LED High Bay units forgo that cost, making the ROI that much better.
The LED High Bay Fixtures are IP65 Rated: No Dust Ingress, Protected against Low-Pressure Water Jets from any Direction. They come in an Voltage Input range of 100 to 277 VAC, with a wide operating temperature range of ~-20°C to ~+45°C. Their solid-state construction renders them impervious to shock, vibration, frequent switching and environmental extremes.
Different Color Temperatures, other Beam Angles and Dimmability options are available for qualified volume offers.
LEDtronics' DLC-Listed LED High Bay Fixtures come with a 5-year U.S. warranty. The series is available through LEDtronics distributors, and quantity discounts are available.
About LEDtronics®
LEDtronics and its founder are responsible for creating the foundation of the LED industry, and are the pioneers of designing, manufacturing and packaging LED lighting products of unrivaled performance and value for industries and customers of all kinds, including 80 percent of Fortune 500 companies. Since 1983, Torrance, California-based LEDtronics has been the unparalleled "Problem Solver" for LED lighting solutions.
The company's vast array of products includes Tube Lights & Thin Panels, Shoeboxes, Down Lights, Post Tops, Canopy Fixtures, Bay Lights, Flood Lights, Street Lights, PAR & CFL-style Bulbs, Miniature, Panel Mount and thousands more.
Contact:
LEDtronics
+1-800-579-4875
E-mail:
Web site:
Locate more LED lighting vendors in the LEDs Magazine Suppliers Directory

Submit new products, case studies/projects, and other press releases at http://buyersguide.ledsmagazine.com/c/general-lighting.html.

More from LEDtronics:
LEDtronics' UL-Listed COB PAR30 LED bulbs offer energy and cost savings over halogen bulbs
LEDtronics Hi-Flux LED Slim strip lights enhance architectural, accent, and security lighting designs