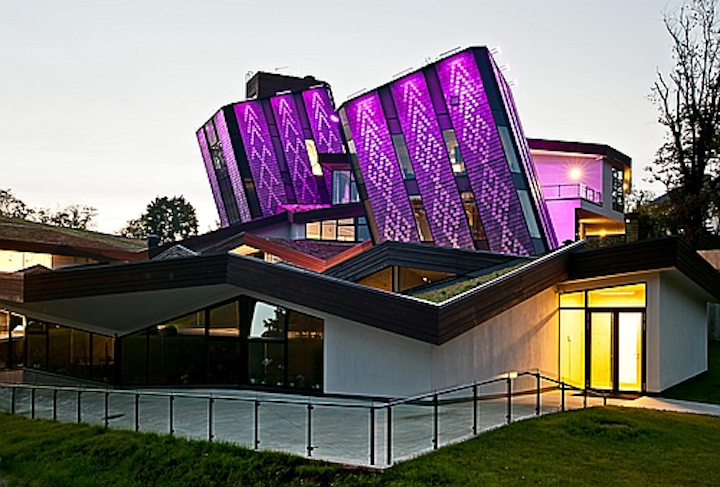 New Product Introduction: PARADE S – slim LED surface-mount linear wall wash luminaire delivers uniform illumination and dramatic effects in RGBW, dynamic, warm, or cool white light.

Design: Griven, S.r.l. of Italy.

Manufacturer: Griven USA, a member of Nordeon-Group.
Interested in more articles & announcements on architectural LED lighting?

Product Applications: PARADE S offers a choice of five light distributions with several electronic control options, allowing designers to produce dramatic lighting effects for a wide range of applications. It is well suited to accenting and illumination of buildings, facades and architectural features; bridges, memorials, monuments, and statuary in corporate, government, or institutional settings.

Product Description: PARADE S combines high lumen output with a choice of optics well suited for wall washing and façade lighting. The slim extruded aluminum housing blends seamlessly into a building's architecture. Adjustable brackets allow the luminaire to be ground mounted, or installed in any vertical position and orientation on building surfaces for maximum versatility. The luminaire is available in nominal lengths of 20", 35", or 53".

PARADE S utilizes state of the art LEDs clustered in quad configurations to optimize blending of RGBW or dynamic white light without sacrificing output. Five standard light distributions are available, and may be combined with spreading diffusers on request for customizable optics. The luminaire provides uniform coverage even on close up installations when using elliptical or elliptical wide distributions to achieve a true wall washing effect. The RGBW model delivers 558 lumens per foot while consuming only 17 watts.

The lightweight PARADE S features an integral power supply within its narrow profile, eliminating the need for additional electrical hardware. Programming options for dynamic white and RGBW include stand-alone operation, master-satellite configurations, or interface with external DMX controller. The luminaire has a continuous dimming range from 0% to 100%. Automatic over-temperature protection and self-resetting fuse are standard features.

Options include the proprietary Polar Edition for areas where snow and ice are prevalent. The Polar Edition integral de-icing system enables PARADE S to illuminate unhindered despite snow and ice by heating the lens. Accessories for light control include barn doors, full angled glare shields, or louvers. All hardware is stainless steel.

Construction & Finishes: PARADE S housing is extruded aluminum with a square cross-section of 2.7". The luminaire is available in 20", 35", or 53" lengths. Adjustable brackets are fabricated steel and allow surface mounting to the ground, walls, or ceiling in any orientation. Lens is clear tempered glass. Luminaire is finished in scratch-resistant polyester powder coat. Luminaire has an IP67 protection rating. All hardware is stainless steel.

PARADE S electronic driver accepts input voltage range from 120v through 277v at 50/60Hz. Operating temperature range is -40°F to 122°F (-40°C to 50°C). Power consumption ranges from 28 watts for Parade 20 model (20") to 74 watts for the Parade 60 (53"). The IP67 luminaire is CSA Certified for Wet Locations.

Contact Information: Literature and specifications for PARADE S or other outdoor lighting products are available by contacting authorized Griven USA sales representatives at: http://www.griven-usa.com/find-a-representative.
Contact:
Griven USA
+1 (864) 487-3535
E-mail:
Web site:
Locate more architectural LED lighting vendors in the LEDs Magazine Suppliers Directory

Submit new products, case studies/projects, and other press releases at http://www.ledsmagazine.com/content/leds/en/addcontent.html.