Aeon Lighting Technology debuts IP65-rated LED tube for application in cold environments
Feb 4th, 2015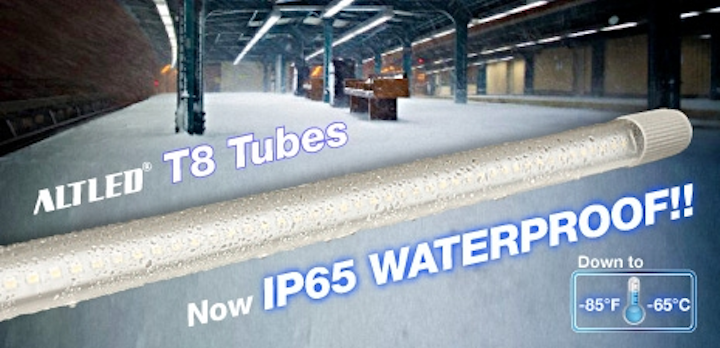 (Taipei) Taiwanese high power LED manufacturer Aeon Lighting Technology Inc.(ALT) recently introduced the waterproof LED T8 capable of operating under -65°C (-85°F) at the 2015 AHR Expo.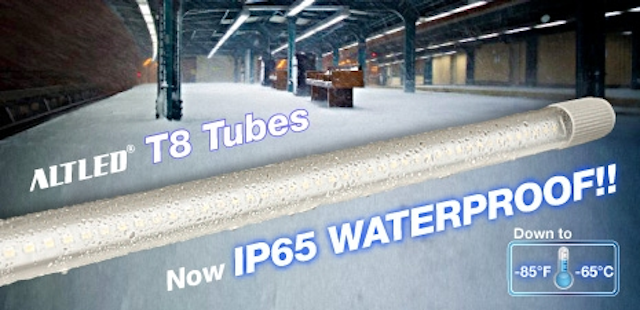 Aeon Lighting Technology debuts IP65-rated LED tube for application in cold environments

Comparing with typical electronics which would normally malfunction at -10°C (14°F), ALTLED® T8 applies aluminum heat-sink outer casing, military grade A-class components, and temperature resistant solid-state capacitors to ensure consistent operation under -65°C (-85°F) and with uncompromised life span of 50,000 hours; even one of the coldest areas on the planet, Greenland, only goes as low as -70°C (-94°F), greatly increasing LED's area of applicability in low temperatures. Areas ranging from extreme low temperature constructions, chillers, laboratories, to high latitude countries, are all suitable applications for ALTLED® T8 and with tremendous energy savings of 70%-90%.

ALT spent over a year going over low temperature product testing; even with ambience of -65°C (-85°F), ALTLED® T8 can still be turned on instantly and reach its luminous stability, producing a staggering 104 lamp lumens per watt with 50,000 hours life span. With these outstanding performances, ALTLED® T8 is best suited and holds a competitive edge over its competitors for industrial lighting and cold warehouses where high illumination and low temperature lighting are much more demanding.

ALTLED® T8 tube light is IP65 rating equipped with multiple waterproof installations: one is to install with a waterproof connecter, second is to secure a single-ended input ALTLED® T8 tube light onto the wall with clamps without the need of an enclosed fixture for optimal heat-dissipation and a longer life span. In addition, suitable waterproof fixtures could also cope with customer requirements. Other than double-pin fixtures, ALTLED® T8 tubes are also compatible with single-pin T8 socket designed for the refrigeration applications. ALT has industry's most diversified and customizable product specifications and modifications, providing T5 and T8 from 1ft to 10ft with an array of color temperatures of warm white (3000k) to true white (6000k) to satisfy customers' every requirement; and a 5 year service warranty to give customers a peace of mind when using the products.

About Aeon Lighting Technology
Aeon Lighting Technology (ALT) is a leading high-power LED manufacturer that focuses on precision and quality. ALT has acquired hundreds of patents, including state-of-the-art heat sink technology and has been awarded numerous international awards, including M Technology Award (2009), iF Product Design Award (2010), Red Dot Design Award (2011), and Good Design Award (2012). ALT has also passed international safety certifications such as Energy Star, DLC, UL, ETL, CE, PSE, C-TICK, LVD, FCC, TÜV, etc. ALT's team of designers, engineers and sales strive for perfection and provide premium quality products and service for customers worldwide.
Contact:

Aeon Lighting Technology (ALT)
+886-2-8226-1289
E-mail:

Web site:

Submit new products, case studies/projects, and other press releases at http://www.ledsmagazine.com/content/leds/en/addcontent.html and http://www.ledsmagazine.com/content/leds/en/iif/add.html.