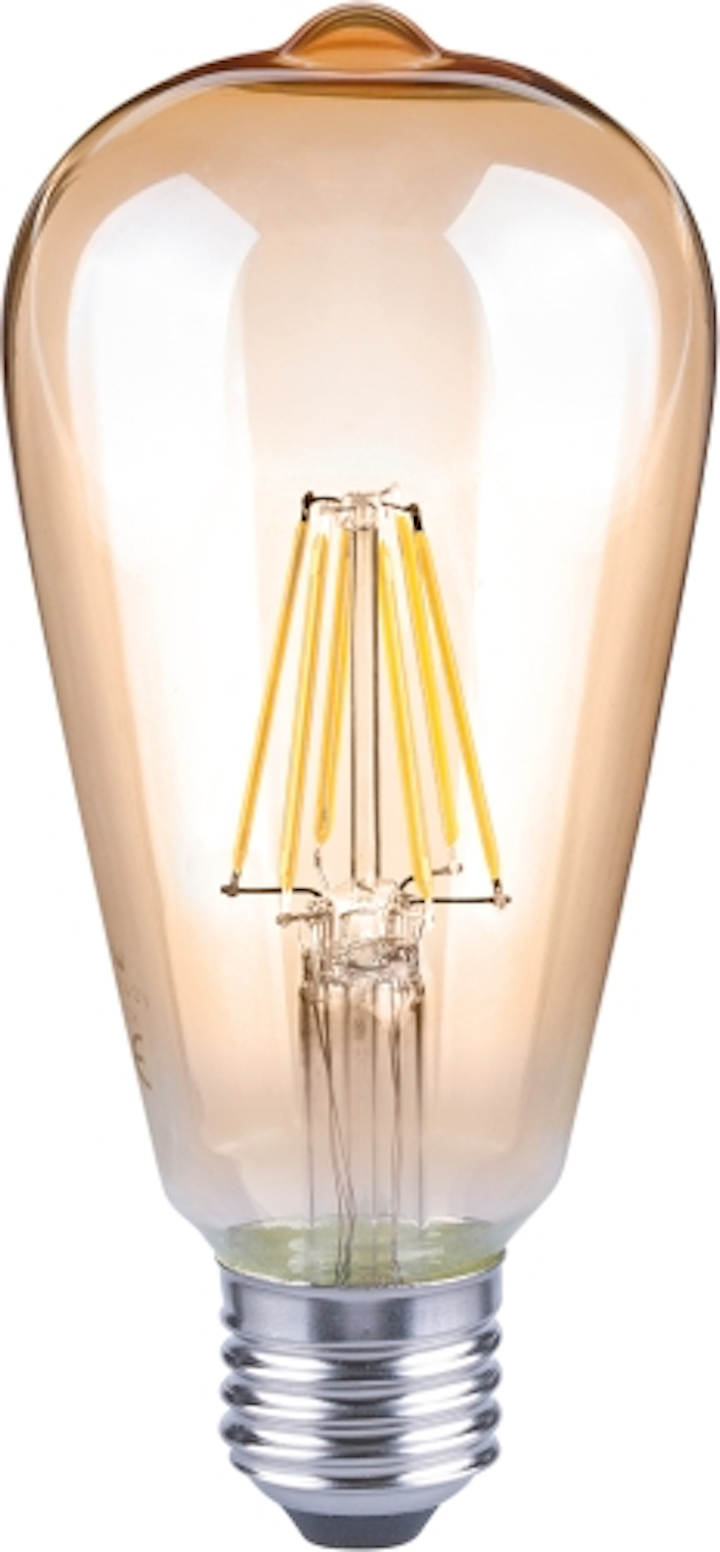 NEWPORT BEACH, Calif - LUX Technology Group, Inc., introduces the first line of dimmable Edison-style LED filament bulbs -- the perfect energy efficient replacements for 25W, 40W and 60W incandescent bulbs. With its beautiful all-glass design, it looks stunning and emits the same warm light as an incandescent bulb with the long life and high efficiency benefits of LED lighting. The filament LEDs offer 90 percent energy savings and excellent efficacy of over 135 lumens per watt, eliminating the need to sacrifice design for efficiency in restaurant, hospitality and residential spaces. LUX is the first to market with the only dimmable, UL Certified LED filament bulb engineered with proprietary protection coating, without a cloudy look. With no plastic ring, the bulb feels and looks as good as a vintage 25W, 40W or 60W Edison bulb, but uses only one tenth of the power, opening up new and dramatic design possibilities with LED lighting. LUX Technology Group, Inc., in partnership with Lattice Power, boasts a product line of over 200 affordable LED lighting solutions, all with advanced technology using a fraction of the energy and up to 15 times the lifespan of non-LEDs. Included in this product line are A19, G25, ST19 Edison, T10, and 3 Candelabra dimmable LED filament bulbs, all available in clear and Vintage Amber coating and in a range of color temperatures (1800K to 5000K). LUX maintains offices in Norway, Panama, China, with its headquarters in California, USA. It also has representatives in many other countries and throughout the United States, not to mention over 50 PhDs dedicated to research, development, and production. Ranging from residential to commercial and municipal applications, LUX is ready to See What's Possible. About LUX Technology Group LUX Technology Group, Inc. has launched a product line of over 200 affordable LED lighting solutions in the past year, including filaments, flood lights, area lights, down lights, tubes, panels, and more. LUX's LED lights offer the same warm, yet powerful glow of an incandescent, but with excellent efficiency and long lifespan, all at an affordable price. Whether it's a bulb that burns brighter and longer, or a program that brings light to the darkest corners of the globe, or a new invention that fundamentally changes how we view the world – LUX will always champion those bold enough to reach for what's next. And LUX will empower those who dream with the tools to bring their biggest, boldest, most audacious notions to life. We are LUX. And we dare you to See What's Possible. www.luxtg.com About Lattice Power Innovating the next generation of lighting, Lattice Power has brought about the convergence of performance, design and affordability in LED lighting. The company's proprietary LED products deliver outstanding efficacy, superior brightness and excellent color rendering. As a vertically integrated company, Lattice Power designs, engineers and manufacturers all the components in its products, optimizing performance and reducing time to market at scale. The company is backed by international renowned venture capital companies, is managed by global lighting experts and employs a world-class team of scientists and engineers. With more than 200 patents and patent applications, the Lattice Power's IP portfolio and proprietary technologies have been integrated into the company's advance, yet affordable, commercial grade LED lamps and fixtures.
Contact:

Lattice Power, Inc.
E-mail:

Web site:

Locate more general lighting vendors in the LEDs Magazine Suppliers Directory

Submit new products, case studies/projects, and other press releases at http://www.ledsmagazine.com/content/leds/en/addcontent.html and http://www.ledsmagazine.com/content/leds/en/iif/add.html.
More from Lattice Power:
2014 IES Progress Report includes Lattice Power's high-ouput GaN-on-Si LED PAR38 lamp