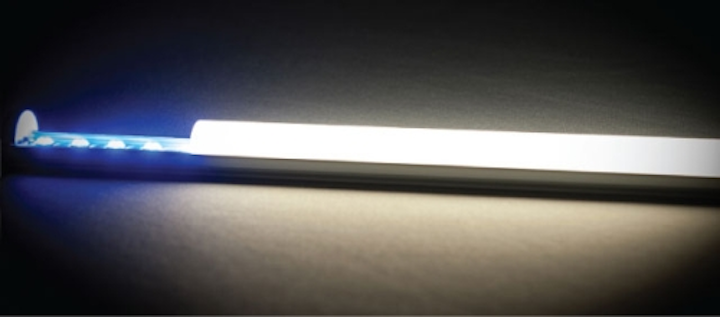 PLYMOUTH, ENGLAND - Plessey announced that it has collaborated with 8Point3 to develop and produce a high efficiency architectural LED lighting product range. 8Point3 is a provider of market leading, energy-saving, solid-state lighting solutions for a range of solid state lighting solutions for both the private and public sectors. Plessey has signed a long-term commercial agreement with 8point3 to supply the lighting modules, including the company's MaGIC™ GaN-on-Silicon LEDs.
Ashley Bateup, Managing Director of 8point3, said: "8point3 has always been focused on creating innovative, market leading LED solutions for a wide range of applications. The improvements we have made on efficiency by using Plessey LEDs shows our continued commitment to developing and refining our products to deliver products of the highest quality and energy efficiency. We are proud to be developing such innovations with UK technology partners such as Plessey."
The Sabre linear architectural LED lighting products combine the benefits of remote phosphor with a unique LED light engine, offering unprecedented system efficiencies and an economic life cycle. With a wide range of colour temperatures, Sabre provides a uniform and diffuse luminance and appearance, ensuring no reflections or pixilation, even when dimming the light. It offers designers a flexible solution for high lumen areas and decorative lighting systems and is being widely used in the hospitality and retail sectors.
Mark Pinnock,Plessey's Regional Sales Manager, said: "Increased efficiencies have been achieved thanks to the close working partnership between our team of engineers and 8point3. Proudly displaying the 'Made in Britain' marque, the Sabre architectural range shows what is possible when UK innovators join forces."
Plessey will hold product demonstrations presented by technical and design experts at stand E26 at LuxLive, the UK's largest lighting show taking place in London. Plessey will be demonstrating its latest products and solutions for the commercial, industrial, consumer and wearable lighting segments. LuxLive will open on Wednesday 18th November from 9am to 9pm and on Thursday 19th November from 9am to 5pm. The show is free to attend with tickets available through the event homepage:
http://luxlive.co.uk/
Plessey
Plessey is a leading expert in the manufacture of semiconductor products used in sensing, measurement and controls applications, and is now at the forefront of the Solid State Lighting revolution. Its MaGIC™ (Manufactured on GaN-on-Si I/C) LED technology has won numerous awards for its innovation and ability to cut the cost of LED lighting by using standard silicon manufacturing techniques.By using its understanding of electronics and expertise in micro-electronic product design and manufacture, Plessey is radically enhancing the human experience with micro-electronics solutions such that people achieve more than they thought possible.
8point3
8point3 successfully delivers market leading, energy saving LED solutions to a wide range of customers across the private and public sector. As a Value Add Partner of Philips Lighting, its services a wide customer base both in the UK and internationally. Delivering best in class LED lighting combined with cost effective wireless lighting controls, 8point3's business management and lighting design teams a turnkey delivery of retrofit lighting projects ensuring optimum energy and maintenance savings. To enable customers to take full advantage of LED and controls, 8point3 also deliver bespoke financing packagesto suit the majority of applications and budgets negating the need for capital investment. For more information on 8point3's wide range of products and services, visit
www.8point3led.co.uk
.
Contact:
Plessey