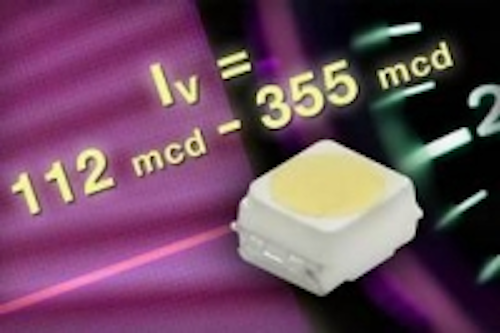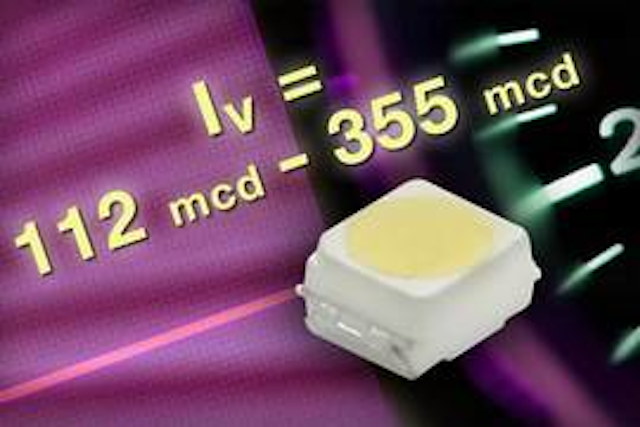 Date Announced: 06 Feb 2007
MALVERN, PENNSYLVANIA — To meet the increasing demand for white SMD LEDs, Vishay Intertechnology, Inc. (NYSE: VSH) today released a new series of sapphire-based, high-intensity white SMD LEDs that offer highly efficient InGaN technology at a very low price.
The new VLMW41XX series of SMD LEDs provides cost-effective illumination for applications including backlighting in automotive dashboards and switches; indicators and backlighting in telecommunications systems, audio and video equipment, and office equipment; and flat backlighting for LCDs, switches, and symbols in general use.
The devices offer a 60° angle of half-intensity, an extremely high luminous intensity ranging from 112 mcd to 355 mcd, and a typical color temperature of 5500 K. The LEDs feature an ESD-withstand voltage up to 2 kV, in accordance with JESD22-A114-B.
The package for the new series is the EIA- and ICE-standard PLCC-2, which consists of a lead frame embedded in a white thermoplast. The reflector inside the package is filled with a mixture of epoxy and TAG phosphor. The TAG phosphor converts the blue emission partially to yellow, which mixes with the remaining blue to produce white.
Preconditioned according to JEDEC Level 2a standards, the PLCC-2 package is lead (Pb)-free and RoHS-compliant. CECC compatibility with infrared, vapor phase, and wave solder processes — as well as automatic placement equipment and IR reflow soldering — simplifies handling and automatic assembly. The VLMW41xx devices are qualified according to AEC Q101.
Available in 8mm tape, samples and production quantities of the VLMW41XX high-intensity SMD LEDs are available now, with lead times of five weeks for larger orders.
Contact
Vishay Intertechnology, Inc.
E-mail:info@vishay.com
Web Site:www.vishay.com