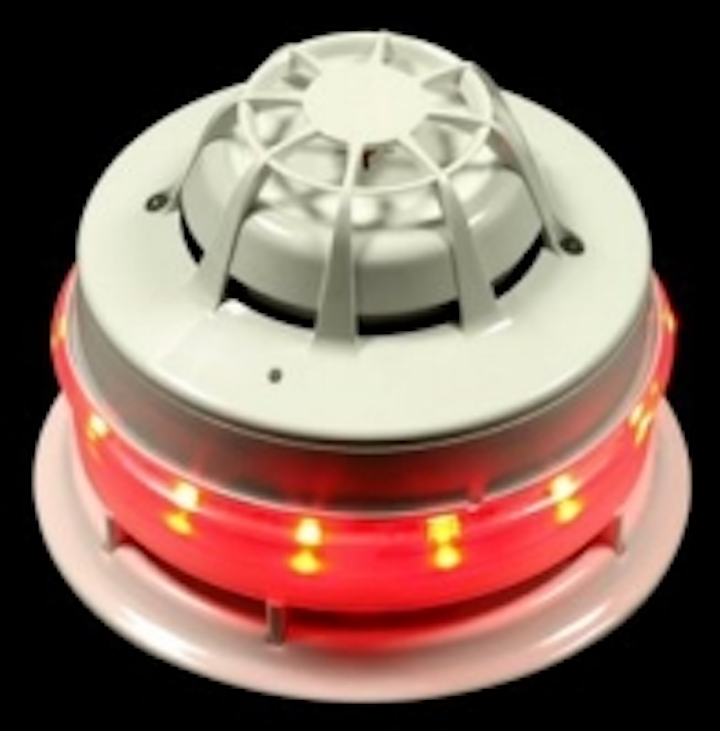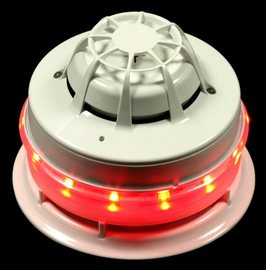 Date Announced: 06 Feb 2007
Klaxon Signals has introduced the new LED Base Sounder fire alarm. For combined visual and audio warning, the unit is designed to be installed beneath a variety of smoke and heat detectors in existing fire alarm systems.
The beacon has a unique design that can be seen from every angle including directly below the unit. Such optimised light coverage increases fire safety by ensuring a visible warning reaches those standing or lying directly underneath it.
This key safety feature combined with a low profile design makes it ideal for use in a number of applications including offices, hotels and hospitals.
Twelve high powered LEDs function with a 95 dB sounder for both audio and visual warning that complies with the Disability and Discrimination Act. It is designed to accommodate a variety of fire detector heads from major manufacturers, enabling detection and alarm at the same point. Consequently, wiring and installation costs are reduced
With two large cable entry locations and keyhole fixing points, installation is both quick and easy. The product can be used as a standalone sounder-beacon if required, in which case tamper-proof cover plates are available. The LED Base Sounder and cover plates are available in a choice of colours, including Hochiki cream and Apollo white.
The product has 32 distinct alarm tones including all the major international standards, volume control and EN54 compliancy. For more information visit the company?s website at www.klaxonsignals.co.uk.
Klaxon Signals Limited manufacture and supply the world's largest range of sound and vision signalling equipment for fire and life safety, industrial and security applications. Part of Halma p.l.c., Klaxon offers an extensive range of fire alarm sirens, electronic sounders, buzzers, beacons, bells and hooters, in addition to innovative evacuation technology and software.
Contact
Klaxon Signals Limited Tel: +44 (0)161 287 5555
E-mail:sales@klaxonsignals.com
Web Site:www.klaxonsignals.co.uk