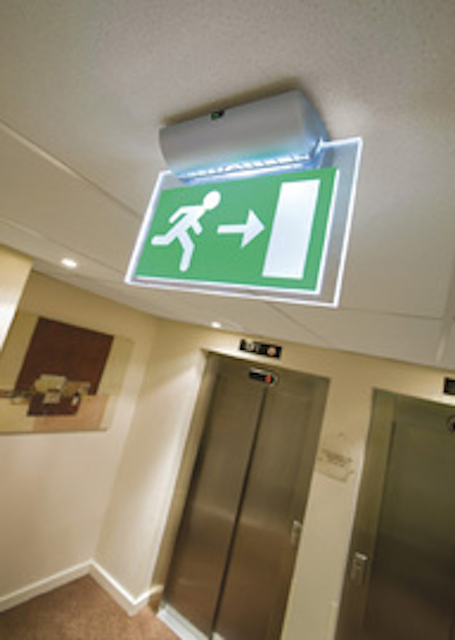 Date Announced: 11 Feb 2007
New from Cooper Lighting and Security is the Menvier Evoled range of exit signs, which offer the long-life and
low-maintenance benefits of LED technology, together with high energy efficiency and a stylish design.
Fully compliant with the demanding performance requirements of EN1838, Evoled provides maintained operation with a 3-hour duration and can be specified as a self-contained unit or as a slave unit for use with static inverters.
Reliable operation is ensured by a 60,000 hour LED light source, which on the self-contained versions is automatically monitored by an integral self-test facility, thereby further reducing the maintenance requirements. This facility uses light-measuring technology to verify the actual output of the individual LEDs during testing. The self-contained versions can also be specified to operate with Cooper's Easicheck central testing system, if required.
With its long life and low energy consumption, Evoled is ideal for use wherever the emergency lighting standard BS5266:1 2005 calls for exit signs to be operated in maintained mode because the building's occupants may be unfamiliar with their surroundings – for example, in leisure centres, shops, railway stations and airports.
Available in a choice of white or silver colour finishes, the new exit sign features a screwless snap-together design with a self-locking, clip-in legend panel - making it quick and easy to assemble.
About Cooper Lighting and Security
Based in Doncaster, Cooper Lighting and Security Ltd was formed in 2000 by the merger of three companies - Crompton Lighting, Menvier and JSB – which had been acquired by Cooper Industries in the late 1990s. The Crompton Lighting brand is well known in the commercial lighting sector, while Menvier and JSB are market leaders in emergency lighting as well as having a strong position in the market for fire-detection equipment.
About Cooper Industries
Cooper Industries Ltd is a global manufacturer with 2006 revenues of $5.2 billion, approximately 85 percent of which are from electrical products. Incorporated in Bermuda with administrative headquarters in Houston, Cooper employs approximately 31,000 people and operates eight divisions: Cooper B-Line, Cooper Bussmann, Cooper Crouse-Hinds, Cooper Lighting, Cooper Menvier, Cooper Power Systems, Cooper Wiring Devices and Cooper Tools group. Cooper Connection provides a common marketing and selling platform for Cooper's sales to electrical distributors. For more information, visit www.cooperindustries.com.
Contact
Tel: +44 (0)1302 303200 Fax: +44 (0)1302 303203
E-mail:info@cooper-ls.com
Web Site:www.cooper-ls.com