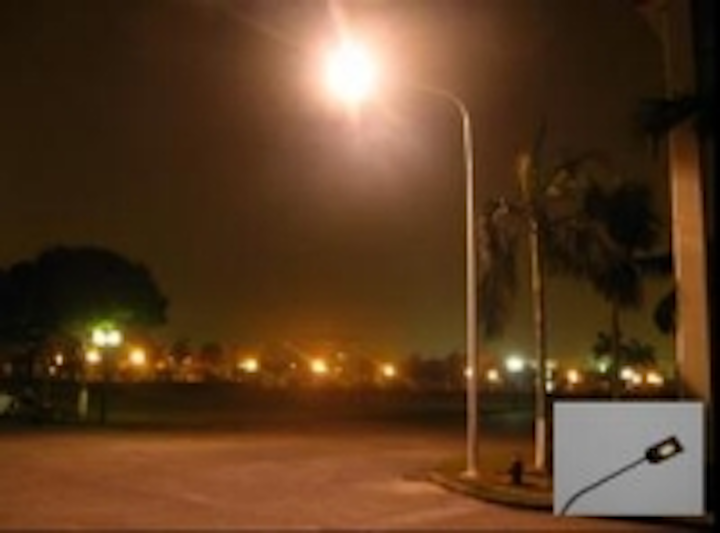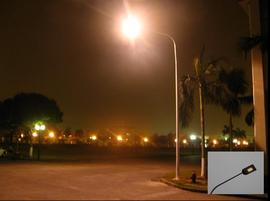 Date Announced: 14 May 2007
NeoPac launches world's first 100-watt warm-white LED street light at driving power over 100 watts
This 102-watts Street Light with correlated color temperature (CCT) at 3200K can keep LEDs junction temperature (Tj) constantly at under 55 °C as well.
As a leader opening the door to LEDs general lighting, NeoPac, who had unveiled a world leading 120-watts white color LEDs outdoor lighting device at 6,000 lumens output in early 2007, recently launched a 102-watts warm white model, based on the same fixture of the 120-watt predecessor, for the applications of street lighting and outdoor area lighting.
"It is the world's first commercial warm white type LEDs Street Light at driving power over 100 watts. With its LEDs junction temperature (Tj) uniformly kept at under 55°C (as ambient air temperature at 25°C), the ultra-high-power warm white lamp for actual street light application can be realized accordingly. Low junction temperature ensures higher LEDs illumination efficiency and longer useful life". According to Jeffrey Chen, the CEO of NeoPac Lighting Group.
With the same fixture design as the 120- watt white color outdoor lighting device, this 102-watts warm white color LEDs version was also developed based on NeoPac proprietary NeoBulb Outdoor Solution. This solution to developing LEDs outdoor lighting device for general lighting is based on an innovation technology platform, called NeoPac® Universal Platform.
Coupled on this 102-watt warm white Street Light in alternate arrangement are six 10-watt white color and six 7-watts amber color NeoPac Emitters together. They provide a mixing warm white spectrum with initial total luminance flux of 4,680 lumens of which 3,000 lm are in white and 1,680 lumens are in amber. Since the LEDs junction temperature are kept at under 55°C, the maintain luminance flux can be kept at up to 4,200 lumens. By using twelve secondary asymmetric optical lenses, the lamp can offer a beautiful butterfly shaped light pattern and as a Street Light the light distribution on the road will be fitting actual application needs.
Each ultra-high-power, ultra-low thermal resistance, single-packaged NeoPac Emitter is coupled with a proprietary micro heat pipe as an integrated NeoPac Light Engine and every NeoPac Light Engine is coupled with a single integrated aluminum heat sink to form a system-in-package, ultra-high-power LEDs lighting module. The LEDs Street Light comes with tested IP rating of 65 for dust and water protection. They are built tough with durable metal casing and sealed optic housing to sustain the severest weather condition for any outdoor application.
The thermal resistance (Rjc) of NeoPac Emitter is at 0.5℃/W ~0.75℃/W, depending on different chips configuration. The total system thermal resistance (Rja) of the lamp from LEDs junction to surrounding air is elaborately controlled at under 0.3℃/W and the heat generated by LEDs chips was pumping away individually from LEDs junction through the micro heat pipe and aluminum heat sink to be efficiently dissipated into the surrounding air. The LEDs junction temperature of the twelve NeoPac Emitters is uniformly suppressed at under 55°C.
Amber LED is very temperature sensitive. The illumination efficiency, spectrum characteristics, and useful life (L70) of amber LED are susceptible to the variation of junction temperature (Tj). It is essentially a challenge in nature to assemble high power white and amber LEDs packages together, since their decay rates are significantly different from each other. When the junction temperature is high, amber light has a rapider decay rate than that of white light, both in maintain lumen and useful life. To overcome this predicament to design a practical ultra-high-power LEDs lighting device for commercial use, NeoPac's solution is to keep the Tj of all white and amber ultra-high-power LEDs packages at a very low level, says 55°C.
The power and LEDs driver unit are also parts of the lamp as an integrated lighting fixture. Keeping the temperature inside the fixture at a low level is also necessary, since the life and reliability of electronics components are also temperature dependent. The ambient temperature of the electronics components inside the 102-watts LEDs fixture is kept at under 40°C as the temperature of surrounding air at 25°C. By controlling the temperature of LEDs junction and electronics components temperature at such low levels, the useful life of the NeoBulb lamp can be lengthened to over 50,000 hrs.
"This is essentially a technological bottleneck in thermal management for making a high power LEDs fixture. NeoPac, however, has thwarted this challenge by utilizing its patented system-in-package (SIP) technology and successfully presents the world with this pioneering hundred watts warm white LED outdoor lighting device. As we know that most of conventional Street Lights installed on roads are warm white color since safety is always an issue when people driving a car in foggy environment and the warm white lights can provide a better lighting in such areas," says Jeffrey Chen.
"The air particle penetration capability of amber light is better than that of natural white. The mixing warm white LEDs lamps can be used in a wider range of outdoor applications than the pure white ones. By launching this world first warm white outdoor LEDs lamps at power over 100 watts at this moment, we are proud of opening the door for LEDs in street lighting application," says Jeffrey Chen.
Furthermore, the high brightness LEDs lamp can be also used for different outdoor applications. By changing different secondary optics, different light pattern can be achieved. 26° beam angle for floodlight and wall washing, 80° beam angle for area lighting applications, and the others are all available to satisfy market's various needs.
Based on same NeoPac Universal Platform, the outdoor lamps - NeoBulb Combo series 150-watts (9,000 lm), 60-watts (3,000 lm), 40-watts (2,000 lm), 20-watts (1,000 lm) in white color and 126-watts (5,960 lm), 51-watts (2,340 lm), 34-watts (1,560 lm),17-watts (780 lm) in warm white color are also available.
"According to NeoPac's products roadmap, the luminous efficacy of NeoPac Emitter now is 50lm/W in white and 40lm/W in amber and the efficacy will be improved up to 75lm/W and 45lm/W respectively in early 2008. An energy saving NeoBulb Street Light with lumen output over 10,000lm in white and 8,000 lm in warm white will be launched into market in early 2008 accordingly" according to Jeffrey Chen
The full series of NeoBulb lighting devices will be demonstrated at the Light Middle-East at Dubai during May 13~15.
Contact
Clement Yang, NeoPac Lighting Tel: +886-3-558-3620 ext. 220 Fax: +886-3-558-6909
E-mail:clement@neopac-lighting.com
Web Site:www.neopac-lighting.com