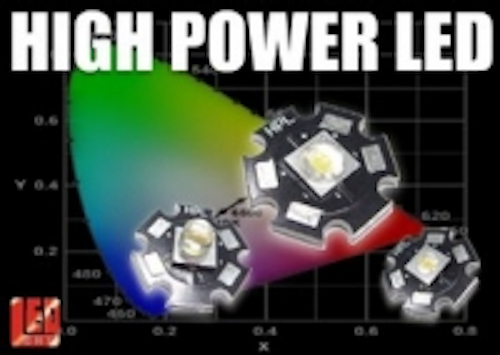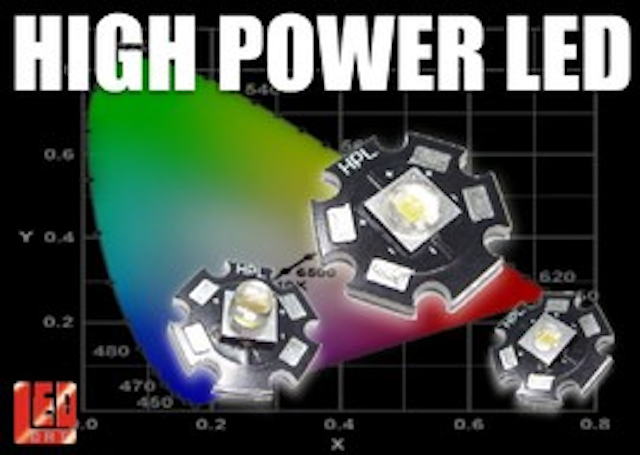 Date Announced: 09 May 2007
American Bright brings industry leading High Power LED technology coupled with integrated optical designs that produce luminous flux in excess of 100 lumens per LED.
Chino, Ca. May 8th, 2007 – American Bright Optoelectronics announced today the introduction of a full line high-power SMT LEDs that feature all metallic composition including a copper (Cu) circuit board and aluminum (Al) body/reflector. This new series features a wide range of standard attached optics and the options of being pre-mounted on industry standard star-style metal core printed circuit boards (MCPCB) or packaged in 250 piece reels.
Stock viewing angles available range from the standard 110º degree discrete device with out a lens to 120º, 45º and 25º integrated lens versions and dual angle, or oval pattern lens versions in 90º/30º or 100º/50º. The integration of optics reduces design time dramatically and allows the design engineer to focus on integration of fewer component level devices. The integration also reduces assembly costs by eliminating post-secondary assembly steps including application of adhesives, bonding agents and cleaners while assuring proper alignment of the optic and emitter.
The new series is available in the widest range of visible colors including 460nm Blue through 620nm Red. White bin groups, in both cool white and warm white, are binned according to McAdams Ellipses and clearly defined in the comprehensive, 25 page, American Bright Optoelectronics data sheets and application notes. The full spectrum possibilities give designers in the Architectural Lighting, Automotive, Decorative, Portable, Traffic, Signage and Signaling industries a viable alternative to costly multi-component solutions currently employed industry wide.
"American Bright has been a significant player in the High Power LED market since the introduction of these technologies. Our latest product takes integration to a whole new level that we are sure will bring value and innovation to an increasingly important market," said George Lee, American Bright President.
American Bright maintains a talented staff of industry veterans in their Chino, California headquarters to help designers define their project scope and secure a competitive quotation. Please contact the factory for further information toll free at 1-888-533-0800, or visit American Bright online at www.americanbrightled.com.
Contact
American Bright Optoelectronics Corporation, 13815-C Magnolia Ave., Chino, CA 91710. Tel: (909) 628-5050 Fax: (909) 628-5006. Toll Free (888) 533-0800
E-mail:info@americanbrightled.com
Web Site:www.americanbrightled.com