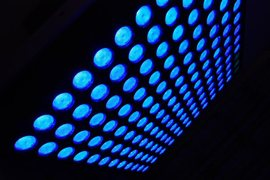 Date Announced: 18 May 2007
UK based LED gurus Easilyled.com have launched the world's first 1 kilowatt LED fixture. Known as the KiloLED, the unit measures just 500mm square but has a punchy output equivalent to a 4.5K Tungsten source.
Designed to be a universal light source, it has applications for the Film and TV market as well as theatre, and architectural markets. Easilyled.com are unique in ensuring their thermodynamics and electronics are independently tested in front of Panasonic and Sony cameras by a third party and, as such, much attention has been given to developing a dimming capability smooth enough to meet the demands of both television and theatre.
'Our main motivation for developing the KiloLED is to provide bulk light output at a fraction of the power', explains EasilyLED's Chris Crockford. 'The sheer light power coupled with the ability to provide full RGB colour mixing and individual component control, makes the KiloLED substantially different from the rest. It is not just another other LED wash light, the KiloLED is a 30 degree beam soft light, with 43,000 lumens of power behind it.'
The unit certainly seems to have hit the balance between giving maximum scope for the designer whilst displaying an enviable economy on DMX channels under show conditions. The KiloLED runs in two modes of DMX operation, 'Wide mode' and 'Narrow mode'.
'Wide mode' - with a maximum of 148 DMX channels - allows the designer individual control over each group of 3 LED's, known as a 'trixel', giving plenty of scope to program complex and dazzling effects into the unit. The KiloLED has the ability to store these effects and chases within the unit itself which the designer can then access through a 'control' channel. In this way the entire fixture can be controlled through 'narrow mode' during a show using just 7 DMX channels.
The KiloLED can also offer, as an additional option, individual control of the 144 LED's to enable its utilisation as a low resolution video screen. The video imagery may be delivered to the unit as standard DMX from a media server, or via the KiloLED's inbuilt mDMX, or Ethernet connections.
Aside from its output and controllability, the KiloLED also exhibits a versatility which will make it a favorite with television studios, event and hire companies along with any venue with a busy turnaround schedule. Designed as a core component for EasilyLED's consultancy work, the KiloLED can be 'stacked' in different combinations as demand dictates. As an example, it can form a low resolution, very high brightness video wall one day, provide bulk lighting for a football stadium the next, and then finally be transformed into individual fixtures for up-lighting a building.
Its low energy consumption reduces running costs, requiring less power generation, offers a smaller carbon footprint and saves in man hours, generator hire and transportation costs. All EasilyLED's products incorporate the PLASA award winning mDMX system – which allows the data to be transferred across the mains cable, so equipment set up times have been greatly reduced with the removal of the data cable. Other system options include the embedding of dAFTdATA's record breaking eDMX WiFi system.
The KiloLED is joined by the Nebula and LinearStrip range of lighting fixtures from EasilyLED for Film, TV, and Theatre, all designed to be the greenest, meanest LED fixtures on the market.
Contact
www.easilyled.com
E-mail:info@easilyled.com
Web Site:www.easilyled.com