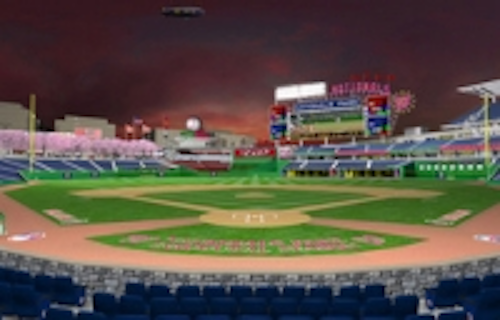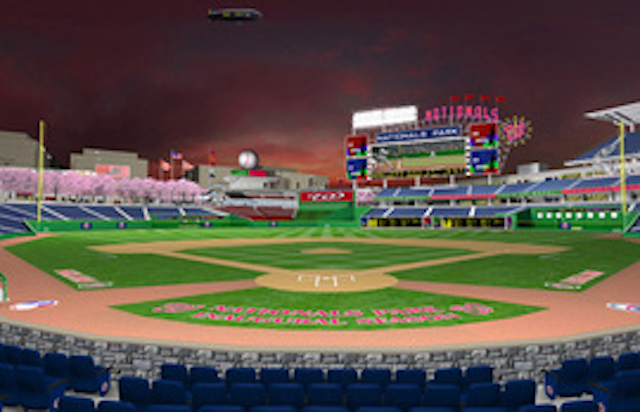 Date Announced: 14 May 2007
(Purchase, NY, May 7, 2007) - ANC Sports Enterprises and Mitsubishi Electric Diamond Vision Systems have been selected by the Washington Nationals to create and install a state-of-the-art high-definition scoreboard and video display system for the team's new ballpark, scheduled to debut Opening Day of the 2008 Major League Baseball season.
ANC Sports will spearhead the installation, content creation and operation for the stadium's Diamond Vision light-emitting diode (LED) display and rotational signage systems.
Nationals Park will feature a 47- by 101-foot high-definition video screen, more than 700 feet of animated fascia, and an LED display covering over 2,600 square feet of the outfield wall. Operated through ANC's 3D VisionSOFT (patent pending) control system, the displays will feature uncompressed images providing the clearest video possible for Nationals' fans.
"We are excited to partner with the Nationals to provide Washington, DC with a premier sports and entertainment venue through our state-of-the-art signage technology," said Jerry Cifarelli, president and chief executive officer of ANC Sports Enterprises. "ANC's revolutionary software system and dynamic content creation combined with Mitsubishi Electric's Diamond Vision LED displays will create an unparalleled signage solution that delivers the preeminent event experience in professional sports."
Highlighted by a right-center field high-definition video screen with over four million LEDs, the new ballpark will feature more than 9,000 square feet of Diamond Vision signage. The stadium will animate four different locations of fascia, including the main level, the club level, and above the home and visitors bullpens. Additionally, two side-by-side 51-foot long LED video screens will be built into the right-center field outfield wall.
"Partnering with ANC Sports enabled us to offer the Nationals and their fans with a one-of-a-kind signage solution that redefines the game day experience," said Mark Foster, general manager for Mitsubishi Electric Power Products Diamond Vision Systems Division. "We are thrilled Diamond Vision will be a part of the new state-of-the-art ballpark in our nation's capital and look forward to expanding our relationship with ANC to provide the professional sports market with the most energetic and visually impressive displays."
Driven by ANC's VisionSOFT software, each of these displays will be able to simultaneously transition from live video, replays, and full motion team graphics to real-time statistics, out-of-town scores and other game information. ANC's new StatsLIVE solution will interface with the VisionSOFT operating system to display real-time comprehensive game statistics from league and third party sources. Additionally, ANC Design, a division of ANC Sports Enterprises will create animations, advertisements and statistical templates for the entire display system.
In addition to the LED display system, ANC will provide the Nationals with over 60 feet of field level rotational signage along both baselines, at "on-deck" locations and behind home plate.
About ANC Sports
ANC Sports Enterprises, LLC is a full-service marketing company specializing in providing complete signage solutions that generate maximum sponsorship and advertising revenue while enhancing the overall fan experience. ANC Sports and its divisions: ANC Technologies, ANC Design, and ANC Marketing offer Light Emitting Diode (LED), rotational and fixed visual displays; advanced media control systems; signage operation and maintenance; advertising sales and marketing consultation; graphic design; and printing production. ANC Sports provides signage solutions for 150 plus venues/stadiums in North America. For more information on ANC Sports, please visit its web site at www.ancsports.com.
About Diamond Vision
Mitsubishi Electric, the Official Large Outdoor Video Display Provider of the PGA TOUR, was the first company to introduce large-scale video display boards for the 1980 Major League Baseball All-Star game at Dodger Stadium. Today, Mitsubishi Electric's flagship product is the Diamond Vision LEDERBOARD®, a full-color, LED (light emitting diode) display system which merges the company's expertise in large-scale video displays with LED technology. The result is a stunning, high-resolution video image from a thinner, lighter, energy-efficient medium, with up to an amazing 170-degree horizontal viewing angle and a 1.5 times improved image resolution. Diamond Vision Systems' US operations are headquartered in Warrendale, Pa. Diamond Vision is a division of Mitsubishi Electric Power Products, Inc., a U.S. subsidiary of Mitsubishi Electric Corporation of Japan. For more information about Diamond Vision, visit http://www.diamond-vision.com.
Contact
Michael Hopkins ANC Sports Enterprises 914-696-2100 ext. 139 mhopkins@ancsports.com
E-mail:mhopkins@ancsports.com