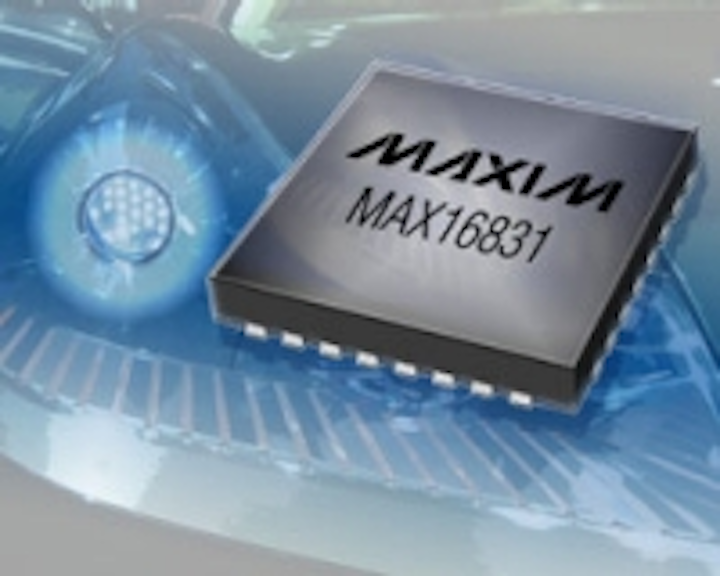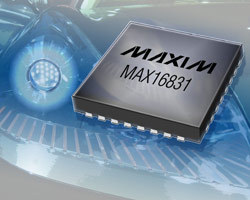 Date Announced: 23 May 2007
SUNNYVALE, CA -- Maxim Integrated Products (NASDAQ: MXIM) introduces the MAX16831 high-voltage, high-power, constant-current LED driver with analog and PWM dimming.
This LED driver integrates a floating LED current-sense amplifier and dimming MOSFET driver to minimize component count and ensure high reliability in automotive and general lighting applications that utilize high-brightness (HB) LEDs. Designed to withstand harsh operating environments, the MAX16831 operates from a 5.4V to 76V input-voltage range, thus ensuring cold-start and load-dump (up to 80V) compliance. Specifically tailored to meet the requirements of the latest front-light automotive designs, it is ideal for high- and low-beam assemblies, adaptive front-light systems, daytime-running lights (DRLs), and fog lamps.
The MAX16831 features high-efficiency operation and a wide (1000:1) dimming range with analog or PWM control. The analog control signal is compared to an on-board 200Hz ramp and can be used to simplify designs that require multilevel brightness adjustment. Providing ±5% accurate LED-current control over the entire automotive operating-temperature range, this LED driver ensures excellent brightness matching. A very low 100mV LED current-sense reference and an internal gate driver with 1.4A/2A source/sink capability allow for high efficiency and, therefore, minimal heat dissipation. A dedicated enable/shutdown input ensures that the shutdown-mode current remains below 45 microamps.
The MAX16831 also features output overvoltage and overcurrent protection, as well as overtemperature and LED short-circuit protection. Fully specified for the -40 degrees Celsius to +125 degrees Celsius automotive temperature range, it is available in a lead-free, 5mm x 5mm, 32-pin TQFN package with exposed pad. Prices start at $2.33 (1000-up, FOB USA).
DATA SHEET: A Data Sheet for this product is available on the web.
http://www.maxim-ic.com/MAX16831
Contact
Customer Service 1-800-998-8800
E-mail:drew@maxim-ic.com
Web Site:www.maxim-ic.com/ledmag