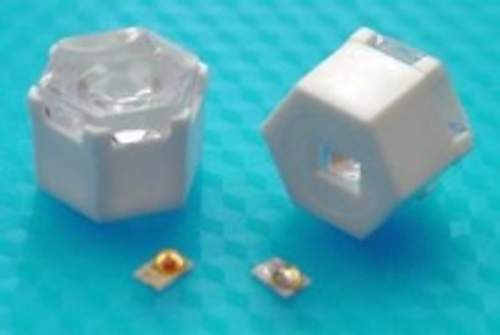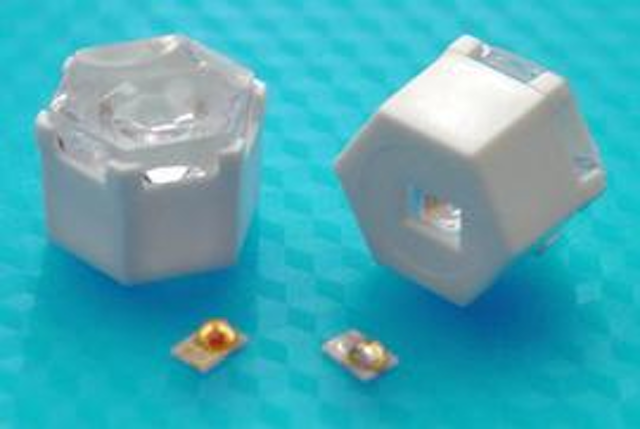 Date Announced: 26 Apr 2007
Polymer Optics Ltd (POL) has produced a full range of optics to support the launch of the latest product from the LUXEON® stable, the Rebel LED.
Like the other products in the POL range, these optics and holders are produced from high quality polycarbonate to deliver high efficiency and better heat resistance than competing acrylic products. This enables the Rebel to operate in similar demanding applications as the other LEDs in the Philips-Lumileds LUXEON® range when used with POL optics solutions.
The optics are available in 6 degree, 25 degree and 6 x 25 degree beam outputs in POL's well know compact 12.9mm hexagonal package, allowing close packing of the new Rebel LEDs to create exciting, cost effective design opportunities for luminaire producers.
In addition to the POL Single Cell Optics range for Rebel, POL has also released their latest novel Colour Mixer Optic technology for the Rebel LED. This provides superior colour mixing from three - red, green and blue - LEDs with a narrow angle beam collimation, with beam conversion optics available for other beam angles.
The new LUXEON® Rebel optics from POL and the whole of the POL optics range for LUXEON® LED solutions is available for global distribution through Future Lighting Solutions, building on the close partnership with POL since 1998.
Continuing development of products on the cutting edge of optical design, maintains POL as one of the leading organisations for LED applications.
Contact
Chris Ferrari - Commercial Director Polymer Optics Limited 6, Kiln Ride, Wokingham, Berkshire RG40 3JL, England Tel/Fax: +44 (0)118 989 3341
E-mail:info@polymer-optics.co.uk
Web Site:www.polymer-optics.co.uk