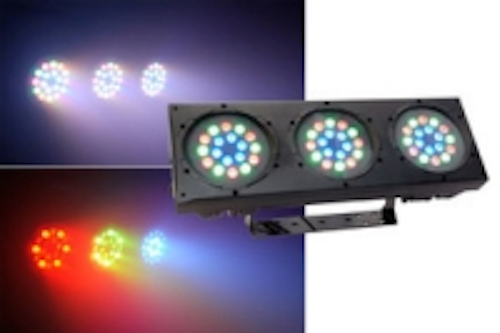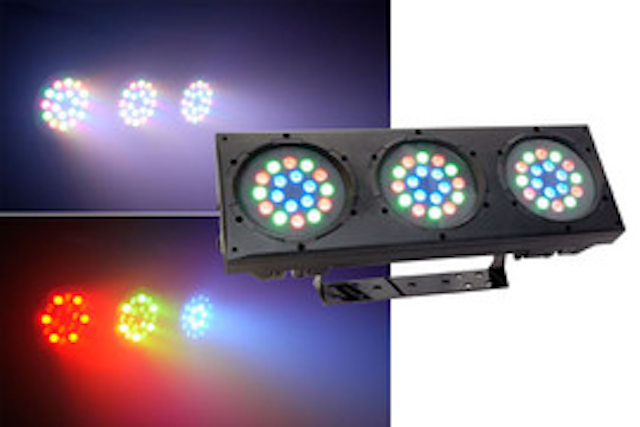 Date Announced: 06 Apr 2007
The COLORado™ 3 by CHAUVET is a multi-faceted intelligent wash bank fitted with a total of 54 luminous 1 watt-LEDs and featuring full RGB mixing with or without DMX control. With an ingress protection (IP) rating of 65, it is suited for both indoor and outdoor entertainment and architectural wash applications. Additional functions include chase, flash and strobing.
Units are stackable. Thanks to multiple interlock points, several COLORado™ 3 units can be attached to create a seamless strip, a bank for use as a blinder light, or even as an entire wall.
Each unit consists of 3 pods of 18 ultra bright 1-watt LEDs arranged in circles. Life expectancy of the diodes is 100,000 hours. Seven of the unit's 12 DMX channels enable individual control over the colors red, green, blue, cyan, magenta, yellow and white. RGB mixing in each of the three pods is also controllable individually.
Distinctive software features include automatic DMX-512 self-addressing to provide quick and easy set-up and programming. In addition, COLORado™ 3 offers CHAUVET's unique ID addressing protocol. ID addressing allows for multiple units to utilize a single DMX address while maintaining complete control over individual units.
An optional COLORado™ controller allows timed control of the fixture's onset and turnoff and accesses built in programs as well. Light intensity is 286 foot candles at 1 meter. COLORado™ 3 feeds from a power source of either 110V or 230V interchangeably. Beam angle is 30 deg.
Thanks to its extreme versatility, efficiency and wide operating temperature range, COLORado™ 3 is sure to find its way into a multitude of uses form exterior wash lights and concert stages to nightclubs, worship venues and theatres.
Contact
Berenice Chauvet, CHAUVET 954-929-1115 ext. 37 3000 N. 29th Ct. Hollywood, FL 33325, USA
E-mail:berenice@chauvetlighting.com
Web Site:www.chauvetlighting.com