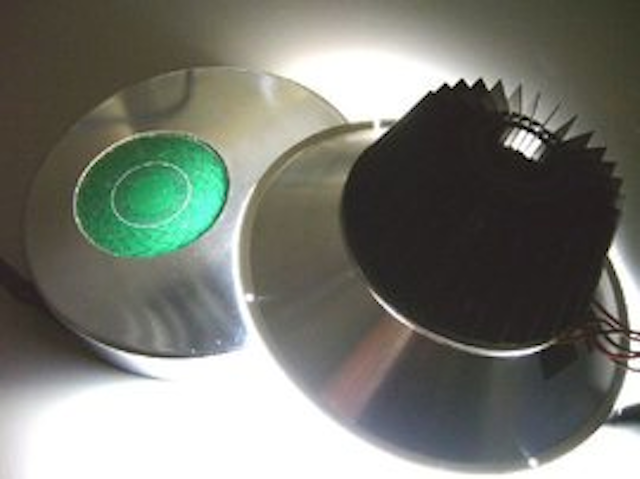 Date Announced: 05 Apr 2007
AMA launches its latest LED light engine for desk lamps, reading lamps and down lights
LED lighting and thermal solution provider AMA Precision Inc., is a Taiwanese thermal solution provider for LED lighting, backlight, and car headlamp applications.
In response to increasing market demands in recent years, AMA has launched its business in providing reliable high-power LED related thermal products, as well as integrating LED lighting systems for customers' requirements.We are committed to providing top-quality and innovative products from design to manufacture, and provide our valuable services to OEM/ODM customers and partners.
High performance light engines
Recently, AMA has successfully developed high performance LED light engines for desk lamp, reading lamp and down lights. With total power consumption of less than 9W, the light engine's superior performances exceed conventional incandescent and fluorescent light sources for lamps.
Its advantages and features include:
• Long lifetime and more energy efficiency
• No UV & IR radiation, cool light
• DC voltage, no blinking, better for eyes protection
• Dimmable & color temperature adjustable
• Auto power off when the light is fallen down or over-heat
• User friendly control panel
• Anti-shock & more flexibility for lamp shape design
In particular, comparing these with general desk lamps in the market, AMA's light engine provides much greater illumination, better anti-glare result and a well-managed thermal light source for desk lamp. We are interested in any lighting design and lamp company which is interested in developing a brand-new type of LED lamp with our light engine.
From us you can benefit by:
• The world's first high-power LED desk lamp with performances and features much better than conventional desk lamp
• Fast product development and time to market
• Technical support and service
• Ready for mass production and delivery high-quality product
• Customize services include design, production, lamp ID and optical/electrical/thermal solutions
Contact
We welcome your enquiry of cooperation and for further details, please contact us: AMA Precision Inc. Contact: Steven Luo Tel: +886 2 2895 5056 Ext.1486
E-mail:steven_luo@amatech.com
Web Site:www.amatech.com