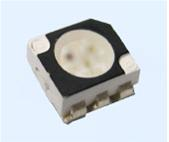 Date Announced: 24 Apr 2007
EVERLIGHT, major LED packaging manufacturer of various kinds of LEDs, is offering different RGB SMD LED types for entertainment applications.
EVERLIGHT is well known as one of the leading LED suppliers of different LED packages like ChipLEDs, TopLEDs and High-Power LEDs.
This high sophisticated 6-pin RGB SMD LED package includes high luminous intensity chips and black surface with diffuse silicone resign for higher contrast. Due to the package design, 61-03 has a wide viewing angle as well as low power consumption. Thanks to serial connection by 6 terminals (colours individual driven) each colour is precisely adjustable.
The package is able to operate with driving current of either 25mA for green and blue and 50mA for red or up to 100mA pulsed current.
Two luminous intensity ranks and two wavelength ranks ensure white balancing and constant colour mixing.
Some more key features are:
Luminous intensity:
Red: 360-565 mcd@20mA
Green: 565-900 mcd@20mA
Blue: 180-285 mcd@20mA
Soldering method: SMT reflow
Popular package size: 6.0 x 5.0 x 2.5mm
Other package dimensions as 5.0 x 5.0 x 1.5mm or 3.3 x 3.3 x 1.85mm are also available.
In addition of these products EVERLIGHT is offering a various range of High Power LEDs in white, single colour or full colour (RGB). For further information please check EVERLIGHT's homepage www.everlight.com or contact our sales offices.
Contact
Everlight International Corp. (US) eliu@everlightinternational.com Phone: +1 972-490-4008 EVERLIGHT Electronics Europe Phone: +49 721 8244745
E-mail:stefan.lutz@everlight-eu.de
Web Site:www.everlight.com