i-Pix satellites for Dame Edna
Apr 17th, 2007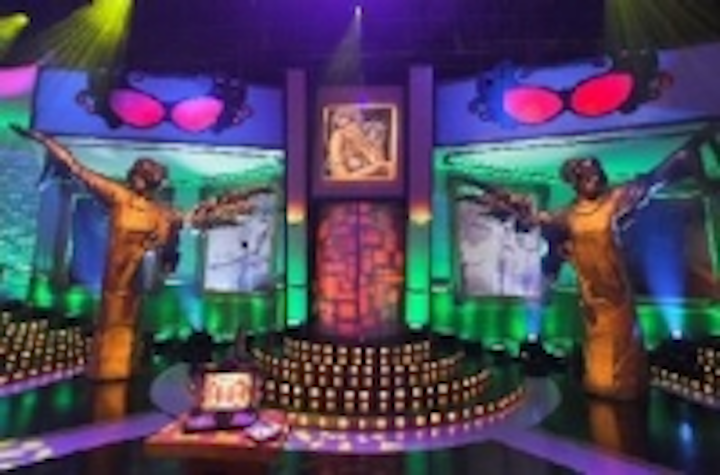 Date Announced: 17 Apr 2007
Lighting designer Tom Kinane specified 64 i-Pix satellite LED fixtures to illuminate the set of the current series of the Dame Edna Everage Show.
The series, directed by John F D Northover, is being produced by Tiger Aspect productions and recorded at London Studios. It sees the return of housewife and self-confessed 'gigastar' Dame Edna to the UK's small screens in this new ITV1 spring series.
Dennis de Grout designed the set, which features two sets of sweeping staircases and an overall epic movie star feel to complement Dame Edna's flamboyance and charisma, together with some striking deco-style architecture. Five eye-catching pairs of large scenic Dame Edna spectacles crown the set.
Kinane collaborated closely with de Grout to ensure the lighting both complements and contrasts with the scenic elements, resulting in a colorful and visual backdrop for the show. Kinane said that the extremely tight budget was his department's biggest challenge and he therefore needed to choose his lighting instruments carefully to ensure they could exploit all creativity possible from them.
Kianane rigged satellites on the ends of the stair treads, shooting up the walls of the set, and also in front of and behind all the sets of spectacles. "It was absolutely the right tool to use – they are the fixtures that I am happiest using" Kinane confirmed, adding: "Lighting the entire set with them has also proved to be the most cost-efficient and effective option".
The satellites at the rear of the spectacles are beaming through polystyrene baffles, which act as diffusers to attain an even spread across the whole area. The fixtures are being supplied by a combination of HSL and Automated Lighting (who are also supplying the moving lights).
Kinane adds that another advantage of using Satellites is their neat and streamlined appearance, "They look so good and are practically invisible anywhere, so there's never a problem with having them in camera shot" he said, which helped massively in this case with the ones on the end of the stairs.
Kinane first used satellites on the National Lottery Show – where they are again lighting the entire set – as part of a three-year studio installation.
Satellite features include an ultra-smooth dimmer response, an easy-to-read LCD user interface and easy address and set-up. Easily attachable clip-on beam adjusters make the fixture more versatile, 'hirable' and engineer-friendly.
The Satellites and moving lights for the Dame Edna show were programmed by Svend Pedersen on a WholeHog II console. Working with Kinane on the series are moving light gaffer Richard Jarvis, vision controller Steve Williams and gaffer Micky Sullivan.
Contact
Louise Stickland on +44 (0)7831 329888 or +44 (0)1865 202679. Call i-Pix direct on +44 (0)161 443 4140.
E-mail:louise@loosplat.com
Web Site:www.i-pix.uk.com/index.htm