Avago unveils 3-watt LED emitter for solid-state lighting applications
Apr 3rd, 2007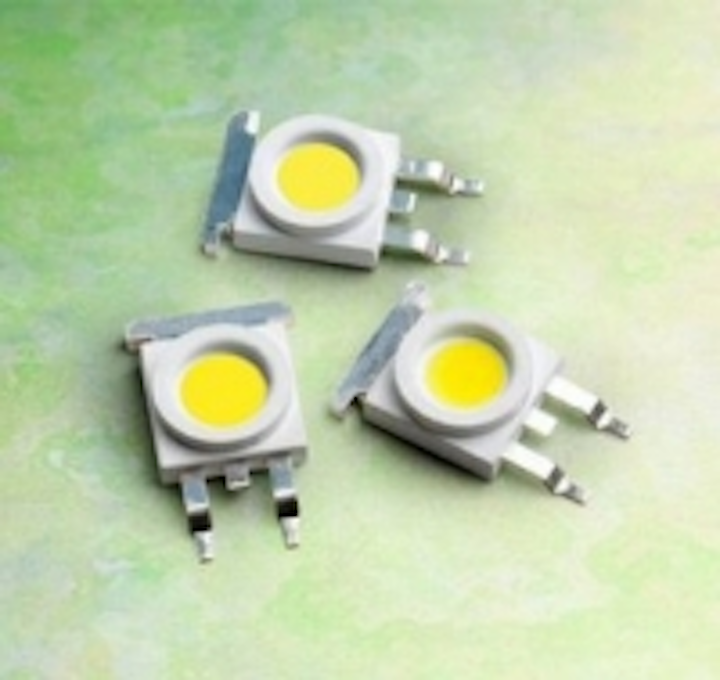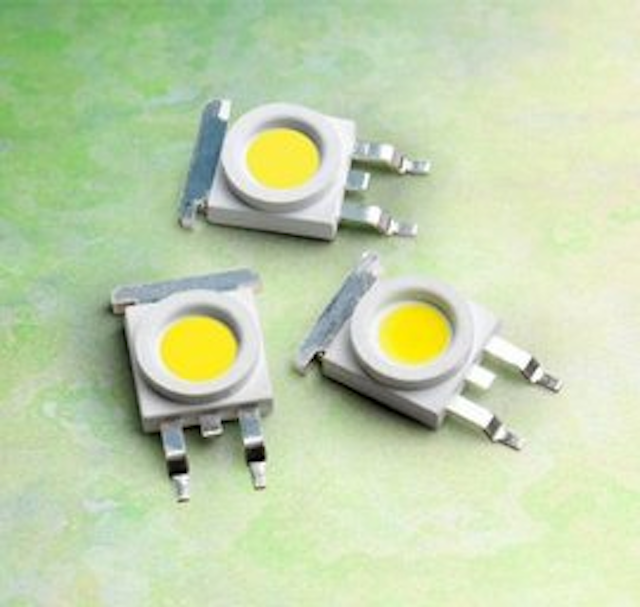 Date Announced: 03 Apr 2007
Efficient and robust low-profile surface-mount LED package provides ultra-low thermal resistance, superior moisture sensitivity and easy installation
Avago Technologies today announced a low-profile 3 Watt high power white surface mount (SMT) LED emitter for use in a wide range of solid-state lighting applications. Avago's ASMT-MW20 Power LED emitter can be driven at high currents to deliver up to 160 lm of illumination to provide an energy efficient and robust high output light source for designers of portable, architectural, decorative and backlighting applications. Avago is a leading supplier of innovative semiconductor solutions for advanced communications, industrial and commercial applications.
Typical applications for the ASMT-MW20 include torch lights and miner headlights, billboard and sign backlighting, accent lighting, architectural facade lighting, street lights, reading and track lights, and lighting for machine vision equipment. This SMT LED emitter from Avago can be driven to a high current of 700 mA to deliver up to 160 lm of light output, which is 40% brighter than competing LED emitters to offer the industry's best lumens per watt efficiency.
Moreover, the ASMT-MW20 Power LED emitter's high drive current capabilities and high-brightness make it an ideal solution for solid-state lighting applications that require a high output light source where space is limited.
"LEDs are increasingly being used for a wide variety of solid-state lighting applications due to the high-brightness, long-life, energy efficiency and space savings they provide designers," said Ng Kee Yean, business development manager for solid-state lighting, Avago Technologies. "As a result, more lighting manufacturers need robust LED packages that are reliable and capable of emitting high light output to provide the level of brightness they require for their applications. Avago's 3 Watt Power LED meets these needs because it provides lighting designers with superior moisture sensitivity, an ultra-low thermal resistance and slim package profile that make it an industry-leading product in terms of brightness, and reliability when compared with other products."
In addition to the combination of high brightness, long life and compact size, Avago's ASMT-MW20 Power LEDs provide two significant advantages in the production environment: They can be easily soldered using conventional surface mount techniques to minimize production costs and the package is qualified to a Joint Electronic Device Engineering Council (JEDEC) moisture sensitive level (MSL) rating of 2a. For manufacturers, this rating means that these LEDs can be kept in the open air (30 degrees C, 60% relative humidity) for up to four weeks after being removed from its sealed package without the need to remove absorbed moisture.
With an exposed pad design at the back of the package, Avago's ASMT-MW20 Power LEDs incorporates InGaN technology to offer low thermal resistance, which allows it to efficiently transfer heat from the package to the motherboard, thereby maintaining long-term device reliability. This LED emitter features a low-profile design, which is extremely suitable in places where height is a constraint. Moreover, it is compatible with standard available surface mount technology (SMT) reflow soldering processes. With a robust MSL 2a moisture sensitivity rating, customers will have great
flexibility during assembly of their products.
Features:
• Long operating life
• Robust package design and thin footprint
• Energy efficient: offers industry's best lm/watt efficiency
• Exposed pad for excellent heat transfer
• Suitable for standard reflow soldering process
• High current operation: delivers up to 160 lm@ 700 mA drive current
• Wide viewing angle of 110 degrees
• Heat and UV resistant silicone encapsulation
• Operating board temperature range: - 30 to +85 degrees Celsius
• Storage temperature range: - 40 to +120 degrees Celsius
• Pb-Free and RoHS compliant
Availability:
Samples and production quantities are available now through Avago's direct sales channel and worldwide distribution partners.
Avago High-Brightness LED and display backlighting solutions
Avago Technologies is one of the largest producers of visible LEDs in the world and ships billions of products annually. Known for its LEDs' performance, efficiency and reliability, Avago offers an extensive portfolio of products at globally competitive prices.
From a discrete LEDs supplier, Avago has emerged to offer total solutions for illumination and lighting applications. Key products include high brightness and high power LEDs, PLCC surface-mount LEDs, color sensors, and display backlighting module solutions. These LEDs and display modules address a wide range of markets, including electronic signs and signals, automotive, solid state lighting and
LCD display backlighting. More information is available at
www.avagotech.com/led and www.avagotech.com/icm.
About Avago Technologies
Avago Technologies is a leading supplier of analog interface components for communications, industrial and consumer applications. With a global employee presence, Avago provides an extensive range of analog, mixed-signal and optoelectronic components and subsystems to more than 40,000 customers.
Avago's products serve four end markets: industrial and automotive, wired infrastructure, wireless communications, and computer peripherals. It is recognized for providing high-quality products along with strong customer service. Avago's heritage of technical innovation dates back 40 years to its Agilent/Hewlett-Packard roots. Information about Avago is available on the web at www.avagotech.com.
Contact
Avago Technologies Literature Service Ref.-Nr.: PRAV07012 Postfach 2260 D-35532 Wetzlar Tel.: +49 (0) 64 41 /92 46 0 Fax: +49 (0) 64 41 /92 46 46
E-mail:info@promotionteam.de
Web Site:www.avagotech.com/led