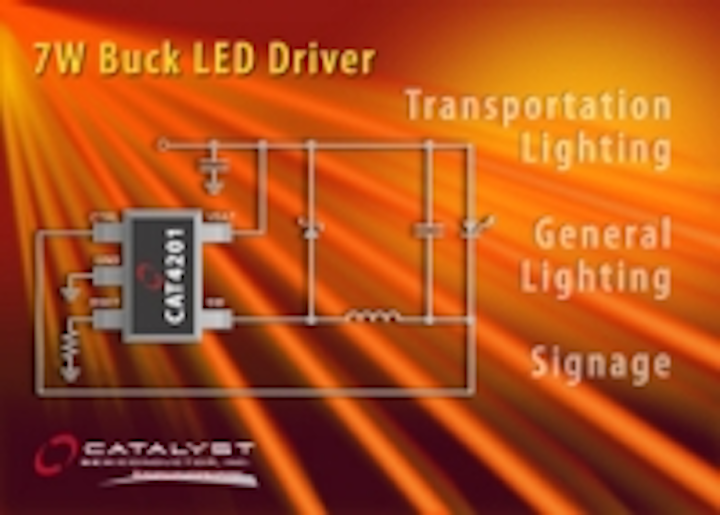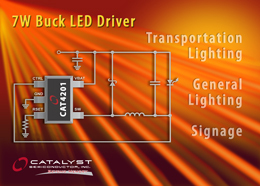 Date Announced: 31 Jul 2007
SUNNYVALE, Calif., July 26, 2007 – Catalyst Semiconductor, Inc. (NASDAQ:CATS) a supplier of analog, mixed-signal and non-volatile memory semiconductors, today announced its innovative buck converter in a TSOT-23 package optimized for driving high-brightness, 350mA LEDs at up 94 percent efficiency. The first device in a new family of buck converters, the CAT4201 incorporates Catalyst's patent-pending switching control algorithm. This new architecture reduces system complexity, improves efficiency and allows an external RSET control resistor to preset a regulated LED current up to 350mA from supplies as high as 24 volts, to provide better inductor control and eliminate the need for a dedicated heat sink.
The CAT4201 buck converter offers a simpler and significantly smaller alternative to linear regulators for driving high-brightness LEDs in step-down applications, eliminating the need for heatsinks. Additionally, built-in load dump protection allows transients of 40 volts to be safely handled, fully optimizing the CAT4201 for automotive indicator and illumination lighting applications, including turn signal, brake and map reading lights.
Traditionally, LEDs from 12V or 24V buses have been driven by linear regulators, which generate a significant amount of heat, resulting in the need for a dedicated heat sink and, therefore, a very large TO263 package. The patent-pending switching architecture of the CAT4201 lets designers easily control the average current with a single external resistor. This results in extremely low internal power dissipation allowing the CAT4201 to be housed in a tiny, 5-lead TSOT-23 package without the need for a dedicated heat sink. Additionally, the device is compatible with switching frequencies up to 1MHz, making it ideal for applications requiring small-footprint, low-cost external inductors.
Customer Application: EZM Lighting
EZM Lighting, a leading manufacturer of safety lighting for traffic environments has designed the CAT4201 into its latest tunnel lighting products. According to Fabiano Paoletto, R&D Manager for EZM Lighting, "Until now, linear regulators provided an adequate solution for our existing, medium-power lighting products. However, as we expanded our product line to include the latest high-power LEDs, driver efficiency and package thermal dissipation issues became critical. The CAT4201 provides a simple yet effective solution, allowing our products to double their lighting power capability without the need for dedicated heatsinking."
The CAT4201 can drive one 1W LED from a 6V supply or up to 7 LEDs in series from a 24V supply. A dedicated enable control using minimal input current allows the load to be disabled and placed into a zero current shutdown mode, eliminating battery drain when not in use. Protection against short-circuit and thermal overload fault conditions is also included.
CAT4201 Product Features
- LED currents up to 350mA
- 12V and 24V system compatible
- Handles transients up to 40V
- Single Pin Control and Dimming functions
- Power efficiency up to 94 percent
- Drives up to 7 LEDs in series (24V systems)
- TSOT-23 5-lead package
Price and Availability
The CAT4201 buck converter is priced at $0.72 each in 10,000 piece quantities. Samples are available now. Projected lead-time for production quantities is currently 6 to 8 weeks ARO.
Contact
Catalyst Semiconductor, Inc. Sherry Hill Telephone: 408-542-1080
E-mail:sherry.hill@catsemi.com
Web Site:www.catsemi.com